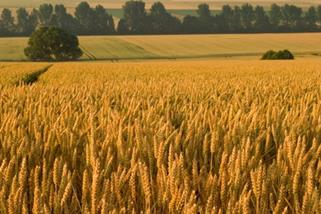 Wheat climbed for the first time in seven sessions in Chicago on speculation that demand will rebound after prices declined below $5 a bushel for the first time since 2010. Corn and soybeans also increased.
Wheat tumbled 21 percent in the past year as world output heads for a record 719.95 million metric tons, the U.S. Department of Agriculture estimates. Corn lost 24 percent in the same period and soybeans slumped 26 percent as the USDA predicted domestic harvests to reach all-time highs. Increasing supplies are helping cut global food prices, with a United Nations' index slumping to an almost four-year low in August.
"It is hard to see it sustained sub-$5 a bushel," Ole Houe, director of advisory services at Ikon Commodities Pty in Sydney, wrote in an e-mail. "The current pressure is coming mainly from the impending U.S. harvest of corn and soybeans and we think as soon as that crop is known we start focusing on next year's crop."
Wheat for December delivery rose 1.4 percent to $5.0775 a bushel at 4:37 a.m. on the Chicago Board of Trade, the first gain since Sept. 5. The price touched $4.96 yesterday, the lowest for a most-active contract since July 2010. In Paris, milling wheat for November delivery added 1.2 percent to 163.50 euros ($211.65) a ton on Euronext.
Egypt, the world's biggest wheat importer, is seeking to buy the grain in a tender today, according to the country's state-run grain buyer.
U.S. farmers will collect 14.395 billion bushels of corn, while the soybean harvest will climb to 3.913 billion bushels, the USDA said Sept. 11. The U.S. is the world's biggest grower of both crops and the largest exporter of wheat.
Corn for December delivery advanced 1.5 percent to $3.48 a bushel. Futures touched $3.3575 yesterday, matching a four-year low reached on Sept. 11, before rebounding to close higher. Soybeans for delivery in November added 0.6 percent to $9.955 a bushel after touching $9.695 on Sept. 11, the lowest for a most- active contract since July 2010.