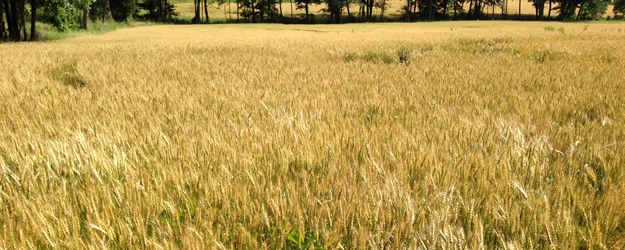 Wheat rose amid concern that rain in Europe will hurt quality and downgrade part of the crop to feed. Corn rebounded from the lowest level in almost four years and soybeans halted the longest slump since February 2009.
France, northern Spain and Romania, where wheat harvesting has started, received rain in the past week, with more forecast for coming days, data from World Ag Weather show. Rain on ripe wheat can hurt milling and baking quality.
Wheat for September delivery rose 0.6 percent to $5.5475 a bushel on the Chicago Board of Trade by 7:14 a.m. local time, while milling wheat for November delivery traded on Euronext in Paris gained 0.3 percent to 182.25 euros ($248) a metric ton.
"In Europe, rains are now widespread and will affect the quality of the most advanced crops," Paris-based farm adviser Agritel wrote in a market comment.
Corn rose 0.4 percent to $3.995 a bushel, after earlier slipping to $3.95, matching the lowest in almost four years. The U.S. Department of Agriculture will publish updated estimates for global production and stocks tomorrow. U.S. farmers are set to gather a record 13.935 billion bushels, the USDA said June 11.
"The most bullish factor for corn right now might be that it is priced deep into the lower fourth of its five-year price distribution range," Darin Newsom, a senior analyst at DTN, wrote in a market report.
Soybeans for November delivery rose 0.7 percent to $11.1175 a bushel after earlier falling to $11, the lowest since December 2011. Futures fell for eight straight sessions through yesterday, the longest run of losses since February 2009. The USDA may raise its forecast for domestic soybean production to 3.789 billion bushels from 3.635 billion estimated last month, according to a Bloomberg survey.