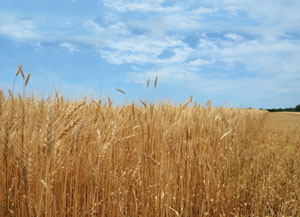 Speculators cut bearish wheat bets for the first time since June as mounting concern that Black Sea supply will be disrupted boosted prices to a one-month high.
Money managers trimmed wagers that had swollen a week earlier to the largest since January. Polish Foreign Minister Radoslaw Sikorski said last week that Russia had restored its combat readiness on the Ukraine border, without giving any indication that an incursion was imminent. Russia and Ukraine will account for almost a fifth of global wheat exports this year, the U.S. government estimates.
Futures rebounded 4.6 percent since touching a four-year low on July 29 as the standoff in the Black Sea region intensified and excess rain in Europe threatened to diminish the quality of the region's grain. Prices had tumbled in the past three months, the longest retreat since 2012, as the U.S. government said global stockpiles will reach a three-year high before the 2015 harvest.
"At some point, that selling just runs out of steam," Diana Klemme, the grain-division director at Atlanta-based Grain Service Corp. who has tracked the markets for four decades, said Aug. 7. "It's easy to assume that if there's conflict, then there could be disruption to exports, if not today, then sometime. We do have the quality issues in the EU. Those are factors that can point to a beginning of a change in attitude."
Wheat futures in Chicago lost 1 percent to $5.44 a bushel by 10:39 a.m. in London after rising 2.8 percent last week, the most since April 18. The Bloomberg Commodity Spot Index of 22 raw materials added 0.2 percent last week. The MSCI All-Country World Index of equities declined 1.1 percent, and the Bloomberg Treasury Bond Index appreciated 0.3 percent.
Wheat Holdings
The net-short position in wheat, or bets on declines, shrank to 67,033 futures and options in the week ended Aug. 5, U.S. Commodity Futures Trading Commission data show. That compares with 71,968 a week earlier.
Poland's foreign minister on Aug. 5 said that the renewed buildup of Russian troops on Ukraine's border had reached the largest since May. Prices climbed to $5.72 the next day, the highest since July 7. Traders and analysts are the most bullish on wheat since March 2013, according to a Bloomberg News survey.
Europe Rains
Wet weather late in the growing season probably cut grain quality in France and Germany, the largest European Union producers, Rabobank International said Aug. 1. The U.S. and EU each accounted for almost 20 percent of world exports last season, U.S. Department of Agriculture data show.
While European wheat quality is declining, the market has a "decent buffer" to absorb the supply shock, Danske Bank said in an Aug. 7 report. Ukraine's grain exports are forecast to rise to 31.73 million metric tons in the 2014-15 season, up from a June estimate of 29.7 million, UkrAgroConsult said July 29.
World inventories by the end of May will reach 189.54 million tons, compared with the 184.29 million in stockpiles this year, the USDA said July 11. Analysts surveyed by Bloomberg expect the agency to raise the forecast to 190.81 in its update tomorrow.
Corn and soybean output in the U.S., the top grower, are poised for records this year, according to a Bloomberg survey.
'Still Bearish'
"Fundamentally, the market's still bearish," Donald Selkin, the chief market strategist at National Securities Corp. in New York, which oversees $3 billion, said Aug. 8. "There really haven't been any disruptions of grain exports from the Black Sea area. We're in the heart of corn and soybean season. If those go along well, you could get additional downside pressure from the whole grain area."
Combined net-wagers across 18 U.S. traded commodities tumbled 13 percent to 713,845 contracts as of Aug. 5, the CFTC data show.
Money managers are holding a bearish bet on cotton for the first time since 2012. Production in the U.S., the top exporter, is expected to rise in the 12 months that start Aug. 1 because of favorable weather, a Bloomberg survey showed. The net-short position was 1,753 contracts, compared with a net-long holding of 888 a week earlier.
The net-long position in copper slid 12 percent to 34,330 contracts. Futures in New York fell 1.3 percent last week, a second straight decline.
The net-bullish position in gold declined 15 percent to 104,111 contracts, the lowest since mid-June. Bullion in New York climbed 1.3 percent last week, snapping three straight losses, as tensions escalated in Eastern Europe and violence spread in the Middle East.
"We've seen money come into the typical safe-haven investments, whether it's U.S. Treasuries, the dollar or gold," Walter "Bucky" Hellwig, senior vice president at BB&T Wealth Management in Birmingham, Alabama, which oversees $17 billion, said Aug. 8. "This is driven by some of the geopolitical uncertainty. Gold is a hedge that investors move into in times like that."