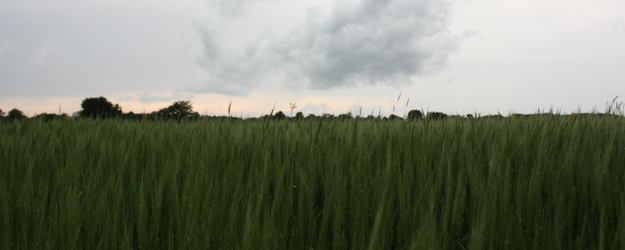 Wheat rose on speculation that a five-week decline will attract buyers and amid concern rain in the U.S. Plains will hurt crop quality for the world's biggest exporter of the grain.
Wet weather will slow the wheat harvest in the southern Plains, particularly from the middle of next week, Commodity Weather Group wrote in a report today. Rain on ripe wheat can impact grain weight and baking quality.
"Traders are torn between the coming harvest pressure and the worsening quality of the U.S. crop," Arnaud Saulais, a broker at Starsupply Commodity Brokers in Nyon, Switzerland, wrote in an e-mailed comment today. "Harvest may be extended and quality may deteriorate."
Wheat for September delivery rose 0.9 percent to $5.96 a bushel on the Chicago Board of Trade by 7:48 a.m. local time. The most-active contract has slumped 20 percent from a peak of $7.44 on May 6 on an outlook for rising global production. Milling wheat for November delivery traded on Euronext in Paris added 0.5 percent to 187.75 euros ($254.78) a metric ton.
Northern Texas, Oklahoma and Kansas are forecast to receive rain in the 4 to 7 day period as well as in the following week, forecast data from World Ag Weather show.
Rain on ripe wheat can swell kernels, reducing the amount of flour that can be milled from a volume of grain, while moisture can cause sprouting that lowers baking quality, according to Ohio State University.
Tunisia bought 159,000 tons of soft milling wheat for between $253.74 and $267 a ton and shipping in August and September, according to the country's state grains office.
"Grain futures are higher on bargain hunting," Paul Georgy, the president of Allendale Inc., said in a market comment today. "The price decline in July wheat below the $6 area has provided some interest in export business to Tunisia, the Philippines and Algeria."
Corn Rebounds
Corn rose 0.4 percent to $4.4125 a bushel, rebounding from the lowest level in more than four months as investors weigh the development of the U.S. crop. Prices fell to $4.3625 yesterday, the lowest for a most-active contract since Feb. 4.
Output in the U.S., the biggest grower and shipper, is set to total 13.935 billion bushels from 13.925 billion a year earlier, the Department of Agriculture said on June 11. Midwest corn still needs to pollinate, the most critical stage of crop development and decisive for kernel count.
"The corn crop is not yet made and will be going through the pollination period in two to three weeks," Michael Pitts, commodity sales director at National Australia Bank Ltd., said by phone from Sydney. "You wouldn't expect corn to be dramatically sold off prior to that uncertainty being resolved. It's probably providing a bit of support."
Soybeans for November delivery gained 0.2 percent to $12.145 a bushel.