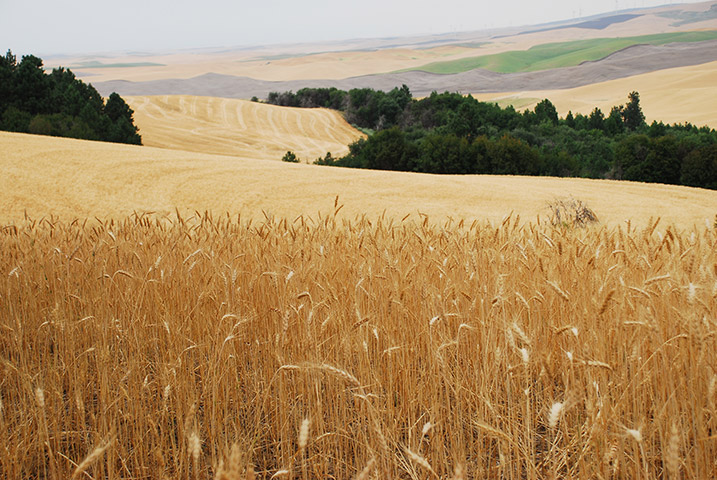 Aug. 13 (Bloomberg) -- Wheat rose after the U.S. lifted the outlook for its exports of the grain as well as for global consumption, blunting the effect of increased production.
The U.S. is expected to ship 25.5 million metric tons of wheat in 2014-15, the U.S. Department of Agriculture said yesterday, lifting its outlook by 500,000 tons. The estimate for domestic ending stocks was little changed even as the agency raised its harvest forecast.
"In wheat, the situation remains largely unchanged in the U.S.," Paris-based farm adviser Agritel wrote in an e-mailed comment. "Despite an increase in production, the export market improves with an outlook above 25.1 million tons, thus keeping ending stocks close to last month's estimates."
Wheat for delivery in December rose 0.7 percent to $5.55 a bushel on the Chicago Board of Trade by 7:30 a.m. Milling wheat for November delivery traded in Paris added 0.3 percent to 172.50 euros ($230.74) a ton.
The USDA lifted its outlook for domestic ending stocks to 18.05 million tons from 17.97 million tons, while boosting its assessment of the 2014 harvest to 55.2 million tons from 54.2 million tons.
"U.S. wheat production was raised by 38 million bushels but offset in the balance sheet by an increase in exports," Paul Georgy, the president of Allendale Inc., said in a comment.
Corn for December delivery added 0.3 percent to $3.70 bushel. Soybeans for November delivery advanced 0.2 percent to $10.58 a bushel, after yesterday sliding as low as $10.43, the lowest price for a most-active contract since October 2010.