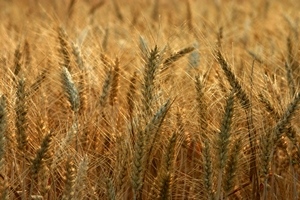 Wheat rose to the highest in a month in Chicago on speculation that quality damage to crops in Europe will increase demand for supplies from the U.S., the world's biggest exporter.
Excess rain during the harvests in France and Germany may have cut grain quality and increased the amount of wheat that will be graded for livestock feed, the U.K.'s Agriculture & Horticulture Development Board said today. U.S. export sales of wheat were 801,007 metric tons in the week-ended July 24, up 81 percent from a week earlier, U.S. Department of Agriculture data show.
"With the prospect of a quality related shortfall of milling wheat in Europe, demand for U.S. wheat can be expected to rise," Carsten Fritsch, an analyst at Commerzbank AG in Frankfurt, said in an e-mailed report. "Heavy rain in France hit the quality of the wheat crop there badly last month, and a large part of the wheat can now only be used as fodder. A setback is feared for Germany and Poland too."
Wheat for September delivery rose 1.4 percent to $5.605 a bushel at 5:21 a.m. on the Chicago Board of Trade, after earlier touching $5.65 a bushel, the highest since July 7. Prices reached a four-year low of $5.185 on July 29 amid prospects of ample world grain supplies.
Milling wheat for November delivery in Paris rose 1.1 percent to 176.75 euros ($235.91) a ton on Euronext. The grain is up 3.7 percent since the end of July.
Soybeans for November delivery fell 0.1 percent to $10.645 a bushel. Futures reached $10.54 on Aug. 4, the lowest since October 2010. Corn for delivery in December rose 0.3 percent to $3.6825 a bushel.
U.S. corn and soybean crops may rise to records at 14.25 billion bushels and 3.815 billion bushels, respectively, higher than the USDA previously estimated, according to a Bloomberg News survey. The USDA is scheduled to update its forecasts on Aug. 12.