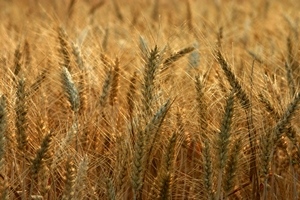 Wheat rose to a two-week high in Chicago on speculation that demand will increase for U.S. grain after wet weather eroded the quality of some crops in Europe.
France, the European Union's biggest wheat grower, received twice the normal amount of rain on average in July, according to weather office Meteo-France. Wet weather late in the growing season probably cut quality of grain in both France and Germany, the second-biggest producer, Rabobank International said Aug. 1. The U.S. and EU each accounted for almost 20 percent of world exports last season, U.S. Department of Agriculture data show.
"U.S. wheat has edged higher on the back of EU quality wheat damage as importers turn to U.S. wheat," Gleadell Agriculture Ltd., a trader based in Gainsborough, England, said in an online report today. "It is looking unlikely that the EU's main wheat exporting countries will be able to meet quality specifications and will see a surplus of feed wheat."
Wheat for September delivery rose 1.5 percent to $5.425 a bushel by 5:13 a.m. on the Chicago Board of Trade, after touching $5.4575 a bushel on the Chicago Board of Trade, the highest for a most-active contract since July 18. Prices are still down 18 percent in the past year on expectations of bumper world grain harvests.
Milling wheat for November delivery added 0.3 percent to 172.25 euros ($231.23) a metric ton on Euronext in Paris. The grain slid 4.5 percent last week.
Sprouting damage may hurt France's ability to sell to North Africa, according to Francois Luguenot, head of market analysis at the Paris-based Union InVivo, the biggest exporter of French wheat. Quality in Germany may be much lower than in the previous year after the rain, ADM Germany GmbH said July 31. U.S. exporters sold 801,007 tons of wheat in the week-ended July 24, 81 percent more than a week earlier, USDA data show.
Soybeans Advance
Soybeans for November delivery rose 0.7 percent to $10.6575 a bushel in Chicago after dropping to $10.54, the lowest level for a most-active contract since October 2010.
Corn for delivery in December added 0.3 percent to $3.6325 a bushel. Earlier the price fell to $3.61, matching the intraday low on Aug. 1, which was the lowest since July 2010. Areas of the Midwest are expected to receive rain this week after recent dryness, according to QT Weather.