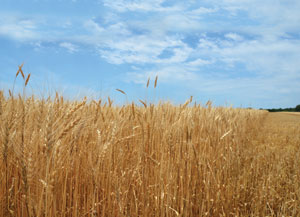 Wheat for delivery in December dropped for a fourth day ahead of a U.S. government report that is expected to lift the outlook for global production.
The U.S. may harvest 2.015 billion bushels of wheat in 2014, more than the 1.992 billion bushels forecast by the Department of Agriculture last month, a Bloomberg News survey showed. World reserves at the end of 2014-15 will expand to 190.81 million metric tons, the highest in three years, a separate survey showed. The USDA is set to update its global supply and demand forecasts today.
"Wheat is likely to be the under-performer on the back of the report," analysts Chris Gadd and Daryna Kovalska at Macquarie Group Ltd. wrote in an e-mailed report. "We would expect the USDA to increase production for the U.S., EU and Russia as they reflect better-than-expected harvest results."
Wheat for December delivery fell 1 percent to $5.5725 a bushel on the Chicago Board of Trade by 5:14 a.m., while milling wheat for November delivery traded on Euronext in Paris fell 0.7 percent to 171 euros ($228) a metric ton.
Chicago wheat tumbled 14 percent in the past year on expectations global supply will climb.
Ukraine's military said yesterday it's near the end of its operation to encircle the remaining separatist strongholds and called on civilians to leave Donetsk and Luhansk as government troops close in. Wheat has rebounded 7.5 percent from a four- year low of $5.185 a bushel on July 29 amid concerns that tensions in the Black Sea region may disrupt trade.
Corn for December delivery fell 0.5 percent to $3.665 a bushel. Soybeans for delivery in November retreated 0.3 percent to $10.7025 a bushel.