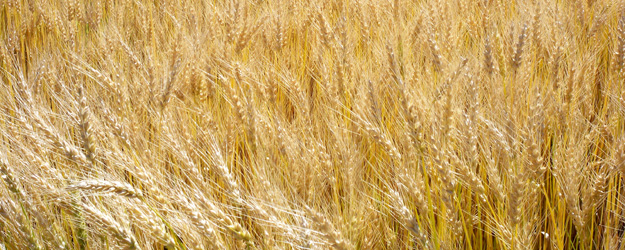 Wheat declined for a third day in Chicago before a government report that may project ample world supplies even as drought damages U.S. crops.
Global wheat stockpiles may be 185.74 million metric tons at the end of the 2014-15 season, about 0.5 percent less than a year earlier, according to a Bloomberg survey that included a range of forecasts higher and lower than the prior year. The U.S. Department of Agriculture is set to release forecasts at noon in Washington today. The Agricultural Market Information System estimates world inventories will be 1.1 percent higher than the prior year, according to a report yesterday.
"Next year's outlook doesn't look half bad," Vyanne Lai, an agribusiness economist at National Australia Bank Ltd., said by phone from Melbourne. "Overall there isn't any strong impetus to drive grain prices higher."
Wheat for July delivery fell 1.1 percent to $7.275 a bushel at 7:07 a.m. on the Chicago Board of Trade. Prices are still up 1.6 percent this week and 20 percent this year after U.S. crop conditions worsened and amid tension in Ukraine. Milling wheat for November delivery fell 0.5 percent to 206.25 euros ($284.34) a ton on Euronext in Paris.
Dryness expanded last week in the U.S. High Plains, with about 36 percent of area experiencing moderate to exceptional drought as of May 6, the U.S. Drought Monitor said yesterday. Spot prices for U.S. hard, red winter wheat at the Gulf of Mexico were about $364 a ton as of May 7, compared with French prices in Rouen at $288 a ton, according to the International Grains Council in London.
U.S. Prices
"Current U.S. levels are now priced at a $40-$80 a ton premium to other origins, depending on grade, and look well overpriced in the eyes of any importer," David Sheppard, a managing director at Gainsborough, England-based Gleadell Agriculture Ltd., said in an e-mailed note today.
Corn for July delivery declined 0.3 percent to $5.15 a bushel, trimming this week's gain to 3.1 percent. Soybeans for the same delivery month rose 0.1 percent to $14.71 a bushel.
Global soybean stockpiles may total 69.74 million tons at the end of this season, before climbing to a record 79.68 million tons by the end of 2014-15, according to the Bloomberg survey. Corn inventories were estimated at 158.11 million tons at the end of this season and 162.2 million by the end of the next marketing year.