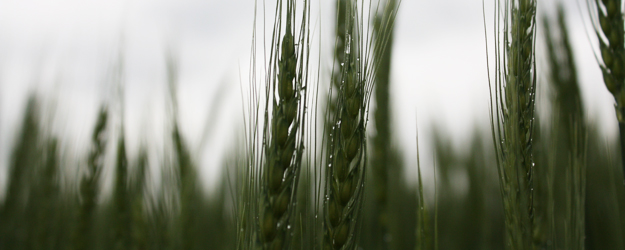 Wheat rose for a second day on concern that rain from Oklahoma to Kansas may delay harvesting and cause crop quality to deteriorate in the U.S., the world's biggest exporter.
Between 0.5 inch and 2 inches (5.1 centimeters) of rain are forecast for the Great Plains this week, according to Joel Widenor, a meteorologist with Commodity Weather Group in Bethesda, Maryland. Some areas will get as much as 4 inches, and harvest delays will be worst in Oklahoma and southern Kansas, he said yesterday. Kansas is the largest winter wheat grower in the U.S., according to the U.S. Department of Agriculture.
"At this late date, rain does in fact do more damage to the crop than it is benefited," economist Dennis Gartman wrote in his daily newsletter. "Had these rains fallen two and three weeks ago, the crop might well have been greatly saved, but the fact that the rains have come now is almost sardonic."
Wheat for September delivery rose 0.8 percent to $6.0125 a bushel at 5:11 a.m. on the Chicago Board of Trade. Prices have slumped 19 percent from this year's peak of $7.44 on May 6 amid an outlook for ample global production. In Paris, milling wheat for November delivery increased 0.5 percent to 189.50 euros ($258.33) a metric ton on Euronext.
Rain on ripe wheat can hurt grain weights and reduce baking quality. Sixty-three percent of the Kansas winter wheat crop was rated in poor or very poor condition as of June 15, according to the USDA.
Price gains "followed concerns of recent rain, which was initially viewed as supportive of U.S. crop but may in fact slow harvest," Australia & New Zealand Banking Group Ltd. analysts including Paul Deane wrote in a note today. "Clearer direction may emerge after the USDA report on June 30," when the agency is set to release data on grain stockpiles and acreage.
Corn for December delivery rose 0.5 percent to $4.4175 a bushel in Chicago. Soybeans for delivery in November added 0.2 percent to $12.1575 a bushel.