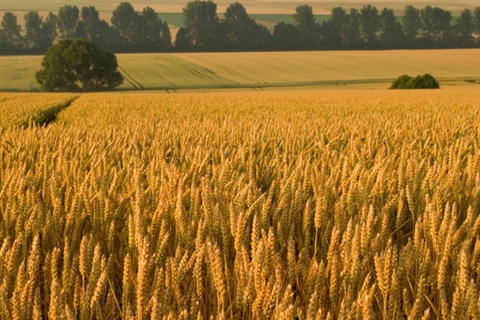 Wheat futures fell to a four-year low after the U.S. government forecast record global output and increasing inventories. Corn headed for the biggest weekly loss since July, while soybeans rebounded.
World wheat production will climb to a record 719.95 million metric tons, the U.S. Department of Agriculture said yesterday. The agency boosted its forecast by 0.5 percent from August on bigger crops in the European Union and Ukraine. Stockpiles were forecast to rise 5.3 percent from a year earlier. Futures headed for the longest slump in two months.
The market "is still adjusting to bearish world wheat production updates yesterday with further increases feared on upcoming crop reports, Richard Feltes, the vice president of research at R.J. O'Brien & Associates in Chicago, said in a note.
Wheat futures for December delivery fell 1.2 percent to $5.035 a bushel at 11:56 a.m. on the Chicago Board of Trade. Earlier, the price touched $5.00, the lowest for a most-active contract since July 6, 2010. The grain dropped for the fifth straight day, the longest slump since July 11. The U.S. is the world's top exporter.
''There's plenty of cheaper wheat to compete with U.S. supplies, and that will be a drag on U.S. markets," Roy Huckabay, an executive vice president for The Linn Group in Chicago, said in a telephone interview.
Corn futures for December delivery fell 0.6 percent to $3.39 a bushel. Yesterday, the price touched $3.3575, the lowest since June 30, 2010. This week, the grain has slumped 4.8 percent, the most since July 11.
Soybean futures for November delivery rose 0.4 percent to $9.85 a bushel. Yesterday, the price touched $9.695, the lowest since July 28, 2010.
The USDA yesterday boosted its forecasts for domestic corn and soybean output this year to records.