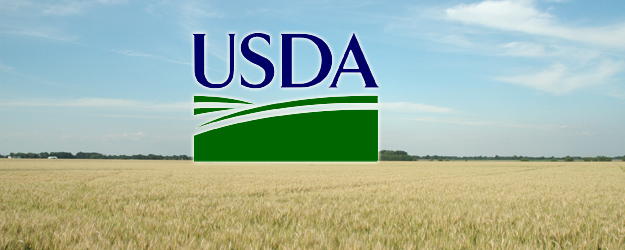 As expected, ending stocks of corn and soybeans are declining, but corn use for ethanol remains unexpectedly strong and wheat stocks are rising, according to USDA's World Agricultural Supply and Demand Estimates (WASDE) released Dec. 10.
"The actual increase in corn for ethanol use was a surprise," says Rich Nelson, chief strategist with Allendale, a brokerage firm in McHenry, Illinois. "Some analysts were expecting steady to lower use."
The Environmental Protection Agency has proposed that the renewable fuel standard—thus corn for ethanol use—be lowered in 2014, yet USDA increased projected demand for corn used by the ethanol sector by 50 million bushels.
"Wheat was dealt an ugly blow to the downside," says Peter Georgantones, account executive at Roy E. Abbott Futures, Minneapolis. "U.S. ending stocks are projected at 575 million bushels. Everyone was looking for 540 million. The larger Canadian crop has sent the market on a downward spiral." Georgantones was the commentator on an MGEX post-report press briefing.
The 2013-14 projected season-average farm price for wheat was lowered 10 cents at the midpoint, and the range was narrowed to $6.65 to $7.15 per bushel.
Corn Prices Keep Dropping
USDA lowered the corn carryout from its November estimate of 1.887 billion bushels to 1.792 billion, well below the average trade estimate of 1.871 billion bushels, but within the range of expectations.
While projected ending stocks of corn were lowered, they are still more than double the tight numbers of the past five years, says Nelson.
There were no changes to corn production, but USDA raised corn exports by 50 million bushels, which fits with the pace of recent sales, says Nelson.
"The corn market is stuck dead in the water," says Georgantones. "There will be no savior to bail this crop out." He advises producers to sell into the rallies.
USDA lowered the projected 2013-14 season-average farm price for corn by 10 cents at the midpoint and narrowed the range to $4.05 to $4.75 per bushel.
Bean Prices Rising
U.S. ending stocks of soybeans are now an estimated 150 million bushels, substantially lower than USDA's November estimate of 170 million bushels and edging closer to last year's tight 141 million bushels. The average trade estimate for soybean ending stocks was 153 million bushels.
USDA also raised exports of soybeans by 25 million bushels.
"That fits the very fast pace of exports that we have been seeing," says Nelson.
However, the furious pace of exports is not sustainable, according to analysts. Georgantones says that typically China begins to cancel orders for U.S. beans after the first of the year as it shifts its buying to South America.
With exports still booming, USDA raised its U.S. season-average soybean price to $11.50 to $13.50 per bushel, up 35 cents on both ends of the range.
Rising soybean prices and falling corn prices could pull more acres into soybeans this spring, Georgantones notes.
World Supplies Increasing
"South America could produce 14 million to 15 million metric tons more than last year, which equates to 500 million extra bushels of soybeans," says Georgantones. He advises producers to sell new-crop beans on the rallies.
Global corn ending stocks were released at 162.46 million metric tons, lower than both the average trade estimate of 163.3 million metric tons and USDA's November estimate of 164.33 million metric tons.
USDA's estimate for world soybeans stocks of 70.62 million metric tons was lower than the average trade guess of 71.64 million metric tons but higher than USDA's November estimate of 70.23 million metric tons and last year's 60.11 million.
USDA raised world ending stocks of wheat by 5.3 million tons to 887.3 million, up 32.1 million tons from last year and only 9 million tons below the record supplies of 2011-12.
 
..................................
---