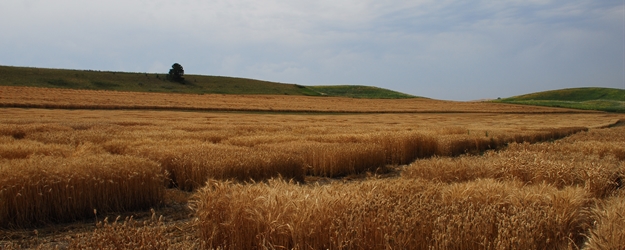 With corn prices plunging toward the $3.50 per bushel level, chances are wheat prices will also continue to tumble.
"With corn down, feed demand for wheat will be substantially lower, which is one reason USDA raised the projected stocks level," says Brad Paulson of Northern Crops Marketing and Investments in Grand Forks, N.D. "Wheat is now priced more as a food grain."
In July's World Agricultural Supply and Demand Estimates, USDA raised its projected new-crop wheat supplies. A sharp increase in hard red spring wheat production more than offset a decrease in hard red winter that was caused by drought and early spring freezes in the southern and central plains. Abundant soil moisture and a cooler-than-normal summer have benefited the hard red spring crop in the northern plains.
Weather Risk Slight
According to USDA's latest Crop Progress report, 67% of the spring wheat crop was headed as of July 13, compared with a five-year average of 68%. Yields for durum and other spring wheat are forecast to be above average, says USDA. And so far the condition of the spring wheat crop would confirm that.
"Most of the wheat in North Dakota is headed. It might be a little later than normal, but we have plenty of water in the ground," notes Paulson. Even if the weather turns warm and dry, Paulson says the crop will have plenty of subsoil moisture to draw on.
USDA lowered feed and residual use for all wheat by 15 million bushels to 145 million due to tight supplies of hard red winter wheat and more attractive prices for corn and sorghum. USDA also lowered 2014-15 wheat exports by 25 million bushels due to growing world supplies and stronger global competition. U.S. projected ending stocks were increased by 86 million bushels to 660 million, which was well above the average trade estimate of 591 million bushels.
USDA lowered its projected season-average farm price for wheat by 40 cents to $6 to $7.20 per bushel.
"September Chicago wheat will likely test $5," says Paulson. "But that's predicated on September corn dropping to $3.50. Hard wheats out of Kansas City and Minneapolis could drop to $5.75 to $6 a bushel."
Competition to Sell Stocks
USDA raised world wheat production 3.6 million tons to 705.2 million, which is 9 million tons lower than last year but the second largest production on record. The biggest increases were in the European Union, up 1.6 million tons, and Ukraine, up 1 million tons. Forecasts for Australia, Brazil, and Serbia were also increased. Both Kazakhstan, down 1 million tons, and Canada, off 500,000 tons, saw declines in forecast production.
Global wheat consumption was increased by 900,000 tons. Global wheat trade was lowered with exports reduced by 1 million tons for Kazakhstan and 700,000 for the United States.
"The world wheat crop is quite large," says Paulson. "There will be lots of competition from eastern Europe, the former Soviet Union countries, and Canada. Canada has a lot of wheat left over from last year's crop that they are now having to market."
With supplies rising faster than use, USDA raised global ending stocks by 900,000 tons, still a three-year high.
 
Want more? AgWeb readers are sharing fresh marketing insights every day. Click here to join the conversation, or to start your own.