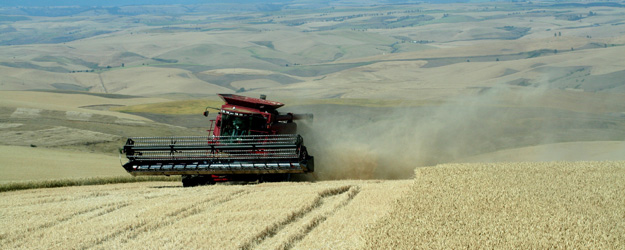 Wheat rose, rebounding from the longest run of weekly declines since January on speculation that rains in parts of the U.S. will slow harvesting and hurt crop quality in the world's biggest exporter.
Wet weather delayed winter-wheat harvesting in Oklahoma, the country's third-biggest producer of the variety last year, WeatherBell Analytics LLC said June 12. Rains this week in the northeastern Plains will increase wetness concerns there, MDA Information Systems LLC said June 13.
"Rain this late in the growing cycle as we have into the harvest can have a very deleterious effect upon the quality and the weight of the wheat produced," economist Dennis Gartman wrote in his daily newsletter.
The contract for September delivery rose 0.7 percent to $6.005 a bushel on the Chicago Board of Trade by 5:22 a.m. local time, gaining after a fifth straight weekly loss. Milling wheat for November delivery traded on Euronext in Paris rose 0.7 percent to 188.50 euros ($255) a metric ton.
Rain on ripe wheat can swell kernels, reducing the amount of flour than can be milled from a volume of grain. Sprouting prompted by humidity can reduce baking quality.
Northern Oklahoma and Kansas are forecast to receive rain in the coming week, with as much as 125 millimeters (4.9 inches) locally in eastern Kansas between June 19 and 23, data from World Ag Weather show.
"The quality and the size of the hard red winter wheat crop is now in jeopardy, and is likely then to put upward pressure on deliverable supplies of wheat relative to deliverable supplies of corn," Gartman said.
U.S. wheat output in the year that began June 1 will probably total 1.94 billion bushels, down from a May estimate of 1.96 billion and compared with 2.13 billion a year earlier, the U.S. Department of Agriculture said June 11.
Corn for December delivery rose 0.2 percent to $4.485 a bushel. Soybeans for delivery in November slipped 0.1 percent to $12.20 a bushel.