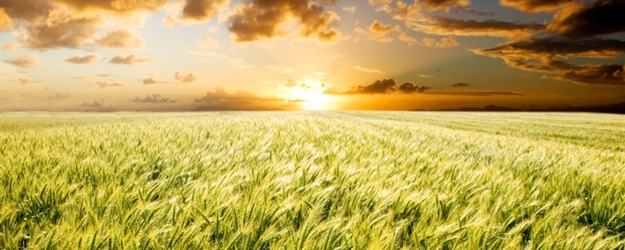 Wheat rebounded in Chicago, after falling yesterday into a bear market, as traders weighed prospects for declining U.S. output against rising world supply.
U.S. wheat output may be 1.942 billion bushels, down from 1.963 billion estimated last month and 8.8 percent less than the prior year, the U.S. Department of Agriculture said yesterday. The harvest is expected to decline this year amid drought in the Great Plains, the main U.S. growing area. The USDA still raised its forecast for global inventories at the end of the 2014-15 season amid improved prospects for crops from Europe to China.
"The USDA shocked against our estimates by lowering U.S. wheat production estimates," Chris Gadd, an analyst at Macquarie Group Ltd. in London, said in a report sent by e-mail today. "But improvements in production in other regions of the world clearly offset this loss."
Wheat for July delivery rose 0.1 percent to $5.90 a bushel at 7:14 a.m. on the Chicago Board of Trade, after dropping to $5.8775, the lowest for a most-active contract since Feb. 13. Futures settled at $5.8925 yesterday, slumping 20 percent from a 14-month closing high of $7.39 on May 6. That decline heralds a bear market. In Paris, milling wheat for November delivery fell 0.5 percent to 188.25 euros ($254.66) a metric ton on Euronext.
The USDA boosted its outlook for global wheat exports to 152.1 million tons from 151.8 million last month, according to yesterday's report. Egypt, the world's biggest importer, is seeking the grain in a tender today, according to its state-run buyer. Global wheat inventories at the end of 2014-15 will be 188.6 million tons, more than last month's estimate of 187.4 million, the USDA said.
Global Reserves
Corn for December delivery was unchanged at $4.4175 a bushel, after swinging between gains and losses. Prices touched $4.39 yesterday, the lowest for a most-active contract since Feb. 11. World reserves before the 2015 harvest may climb to 182.6 million tons, the highest in 15 years, the USDA said. U.S. production was pegged at 13.935 billion bushels, unchanged from the prior estimate.
Soybeans for November delivery advanced 0.2 percent to $12.235 a bushel. The U.S. harvest may be a record 3.635 billion bushels, unchanged from last month's projection, the USDA said.