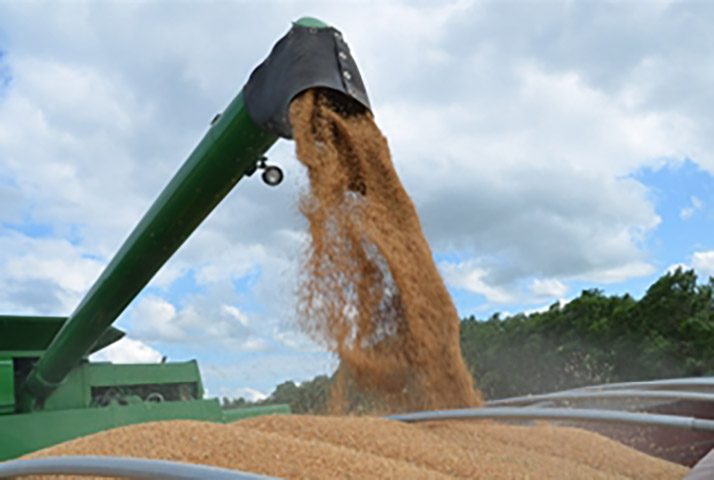 Wheat futures headed for the biggest weekly gain in two months after the U.S. government unexpectedly cut its outlook for world stockpiles.
Inventories before the 2015 harvest will reach 192.59 million metric tons, 1.9 percent lower than last month's projection of 196.38 million, the U.S. Department of Agriculture said. Analysts surveyed by Bloomberg forecast an increase to 196.49 million. The agency also cut its estimate for domestic stockpiles.
Reserves are still projected to climb 3.8 percent from a year earlier. Futures tumbled 17 percent last quarter, the most in three years, on the outlook for bigger global supplies. World food prices fell for a sixth month in September, the longest slide since 2009, as the cost of dairy goods, grains, cooking oils and sugar declined amid prospects for rising production.
"The big surprises this month were the cuts in U.S. and world carryover estimates," Dale Durchholz, a senior market analyst for AgriVisor LLC in Bloomington, Illinois, said in a telephone interview. "The USDA is forecasting stronger demand than almost anyone was expecting. That may help to focus end users on increasing purchases for long-term needs, to lock in current low prices."
Wheat futures for December delivery climbed 1.1 percent to $4.9875 a bushel at 11:56 a.m. on the Chicago Board of Trade. The grain is up 2.7 percent this week, the most since Aug. 8.
The USDA raised its outlook for world consumption by 0.6 percent to 714.11 million tons. Global use of the grain in livestock feed will climb 7.7 percent from a year earlier to 140.31 million tons, the agency said, raising its projection by 1.9 percent from September.
Tyson Costs
Futures fell 19 percent this year through yesterday. Lower grain prices are cutting costs for buyers including Tyson Foods Inc. The USDA has forecast that grower incomes will drop to a four-year low, threatening to slow demand for farm machinery from makers including Deere & Co.
An index of 55 food items dropped 2.6 percent in September from August to 191.5, the lowest since 2010, the United Nation's Food & Agriculture Organization said yesterday.
"This year's big crops, not just in North America but across agricultural production areas worldwide, will enhance food security after several years of weather disruptions," David MacLennan, Cargill Inc.'s president and chief executive officer, said in a statement this week.