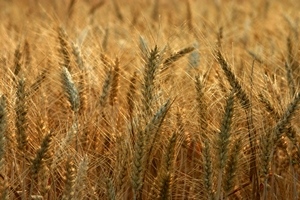 Wheat fell in Chicago, paring a weekly gain, as investors weighed the outlook for ample global supplies against quality concerns in parts of the European Union and escalating tensions in the Black Sea region.
World stockpiles of wheat may rise to a three-year high at 190.81 million metric tons by the end of 2014-15, according to a Bloomberg News survey before the U.S. Department of Agriculture updates its outlook on Aug. 12. Supplies of corn, which competes with wheat for use in livestock feed, will be the largest in 15 years, the survey showed. Wheat rose 7.5 percent since reaching a four-year low on July 29 after EU crops had too much rain.
Futures were supported by "ongoing EU quality concerns, rising Black Sea prices and renewed geopolitical worries and import sanctions from Russia," Sam Sloane, a senior analyst for risk management and advisory at Ikon Commodities Pty in Sydney, wrote in an e-mail. Still, "each of these bullish forces do not have much weight to disturb the global balance sheet for now."
Wheat for delivery in September retreated 0.8 percent to $5.5725 a bushel by 7:46 a.m. on the Chicago Board of Trade. Prices were set for a 4.3 percent advance this week, the biggest gain since the period ended April 18. In Paris, milling wheat for November delivery dropped 1.3 percent to 174.75 euros ($233.99) a ton on Euronext.
Senalia and Socomac, French delivery silos for milling-wheat futures for the 2014 marketing season, have set quality criteria for the grain, Euronext said. Requirements include minimum protein levels at 10.5 percent and a base Hagberg falling number at 220 with a tolerance to 170, according to the exchange. The Hagberg number is an indication of baking quality.
Dairy Products
Russia said yesterday it was banning imports of meat, fish, vegetables, cheese and dairy products from the U.S., EU and other countries that sanctioned it or supported punitive measures following conflict with Ukraine. The restrictions "will have more impact on domestic inflation than global agricultural balances," Deutsche Bank AG strategists including Michael Lewis said in an e-mailed report today.
Corn for December delivery dropped 0.7 percent to $3.685 a bushel, paring a weekly gain to 1.7 percent. Soybeans for November delivery were little changed at $10.7775 a bushel, set to gain 1.8 percent this week. The USDA is also scheduled to update its U.S. production forecasts on Aug. 12, which may show record harvests for corn and wheat, Bloomberg's survey showed.