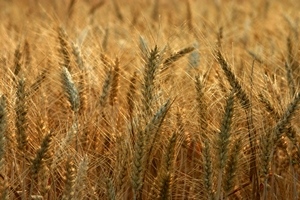 Wheat climbed for a second day to trim a weekly loss on speculation that the harvest in Canada, the world's third-biggest exporter, will slump 26 percent after excessive rain.
The contract for December delivery rose as much as 1 percent to $5.61 a bushel on the Chicago Board of Trade. Futures were at $5.5825 by 10:03 a.m. in Singapore, set to drop 0.9 percent this week for a second straight retreat.
Canadian growers may harvest 27.7 million metric tons from a record 37.5 million tons in 2013, Statistics Canada said yesterday. The average estimate of 10 analysts surveyed by Bloomberg News was 29.1 million tons. Prices have tumbled 13 percent in the past year as global production may climb to the highest ever, the U.S. Department of Agriculture estimates.
The Canadian crop forecast was "generally lower than what the market had expected," Australia & New Zealand Banking Group Ltd. analysts including Paul Deane wrote in a note today. Wheat's advance is a consolidation, rather than the start of any near-term rally, the note said.
World wheat production is set to total a record 716.09 million tons in 2014-2015, the USDA said Aug. 12. Stockpiles at the end of the season are set to reach 192.96 million tons, the highest in three years, the USDA forecasts.
Soybeans for November delivery rose 0.5 percent to $10.4325 a bushel, poised to decline for a second week. Prices fell to $10.35 on Aug. 20, the lowest for a most-active contract since September 2010, and matched that level yesterday. Corn for delivery in December advanced 0.3 percent to $3.70 a bushel, trimming this week's decline to 1.9 percent.