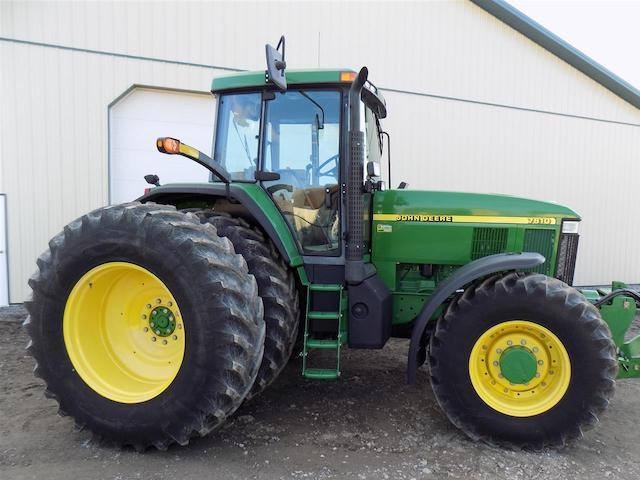 What tractor model from new to 20 years old would you guess is the most searched model at MachineryPete.com?
Answer: John Deere 7810.
This makes sense to me for a couple of reasons. At 175 hp, the 7810 is in a popular range capable of handling many jobs on the farm. Secondly, how old are 7810s? Around 15 to 20 years old, as Deere made the 7810 model from 1997 to 2003. As I've seen over nearly three decades of compiling auction sale price data, everyone clamors to acquire nice-condition used tractors once they hit the 10-year-old mark.
It's quite interesting what's been going on with John Deere 7810 tractor values lately. A closer inspection tells us a lot about the current market. Let's start off with the 30,000-foot view on John Deere 7810 tractor values:
• Average auction price in 2017: $41,824.
• Average auction price in 2016: $42,806.
• Average auction price in 2015: $47,878.
This low $40,000 range for the current value is off from what we saw from 2011 to 2014 on John Deere 7810 values, which held steady in the range of $61,500 to over $64,000. Why the steep one-third drop in value the past few years? Namely it was due to a nearly threefold increase in number of 7810s sold at auction each year.       
Supply and Demand. See the table of recent auction sale prices for clues about the current market. Note the number of soft prices under $30,000. But also note the three highlighted very high prices. That's proof of what I've been seeing in this used market since November 2017: strong buyer demand for the nice-condition used equipment.
The 2003 model 7810 with 831 hours sold for $95,000 at a consignment auction on Jan. 27. That is the fifth-highest auction sale price ever on a 7810. The 2000 model 7810 2WD with 1,816 hours that sold for $83,600 on Nov. 18, 2017, was the second-highest auction price ever on a 2WD 7810.
Colorblind Trends. My auctioneer friend Mike Maske had a farm auction in central Illinois on Jan. 31. A sharp 1995 Case IH 5250 2WD with only 2,070 hours sold for $40,000. I had to dig back 17 years to find another 5250 2WD that sold that high. At the same sale, a 2003 Case IH MX230 tractor with 2,401 hours went for $69,000, the third-highest auction price on an MX230 in the past three and a half years.
Good condition equipment produces strong buyer interest and strong prices. I look for this trend to continue through 2018, as we're now five years in the lower-commodity-price reality. Even if folks don't really want to, they might have to finally upgrade their used equipment fleet. And what will they likely look for? The best-condition used machine they can find.
Greg Peterson is the most trusted name in farm equipment. Since 1989, he has compiled more than 500,000 auction prices, which he updates on his website, MachineryPete.com. Read his blog at AgWeb.com/machinerypete and subscribe to his YouTube channel at youtube.com/machinerypete.