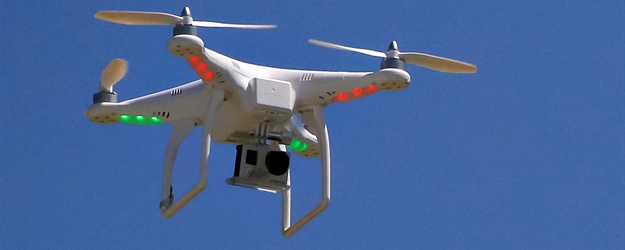 Emerging innovations such as drones demand responsible use
As new technologies make their way into agriculture, they bring new opportunities to farmers. Occasionally, they present new hazards as well.

Drones are a perfect example. In August, the Washington Post reported there have been more than 700 "close call" incidents between drones and piloted aircraft since the year began. That's bad buzz for an emerging technology not totally cleared (at least commercially) by the Federal Aviation Administration (FAA).

Several groups are taking measures to make drones as safe as possible. The National Association of Mutual Insurance Companies (NAMIC) released a white paper earlier this year examining potential insurance issues for commercial drones. Tom Karol, the group's general counsel, says there are complicated issues to resolve before drone users can adequately protect themselves.

"Mechanical things in the sky have a nasty proclivity to sometimes fall in unexpected ways and places," he says. "As the commercial applications of drones continue to grow, so will the potential for crashes, damage, loss and injuries, all of which will carry an added potential for liability. Insurance professionals who best understand the issues can gain tremendous opportunities to help their policyholders."

NAMIC estimates only 3% of drones in operation are insured. As the white paper notes, there will always be risks to operating a drone, so consider property and casualty insurance. 

Meanwhile, an educational effort called "Know Before You Fly" has emerged. Developed by the Association for Unmanned Vehicle Systems International, the Academy of Model Aeronautics (AMA) and the Small UAV Coalition, in partnership with the FAA, the initiative offers some practical "dos and don'ts" for first-time flyers, including:
Do follow safety guidelines, like the ones developed by AMA.
Don't fly higher than 400'.
Do keep a line of sight with your drone at all times.
Don't interfere and remain well clear of all manned aircraft.
Don't fly your drone over people or moving vehicles.
Do check and follow all local laws and ordinances.
Don't take photos of other people or property without their permission.
Don't fly over sensitive infrastructures, such as power stations, government facilities and busy roadways.
Do fly in safe weather conditions. Be careful when there are high winds or reduced visibility.
Do contact the airport or control tower if you plan on flying within five miles of an airport.      
Another technology finding its way to the farm is autonomous machinery. Todd Janzen, a former Kansas farmer and attorney in Indiana, points out there will be obvious liability issues when self-driving farm equipment is a reality.

"Accident risks are huge," he says. "Google's self-driving cars are tiny and probably would 'bounce' off another car in a collision. But a new four-wheel-drive tractor that runs out of control is not going to stop when it collides with vehicles or buildings."

Sensor technology could go a long way in preventing accidents, Janzen says. Still, accidents are likely to happen. When they do, who's at fault?

"Manufacturers will blame the farmer for not calibrating or setting up the equipment properly, and the farmer will blame the manufacturer for a design flaw," he says.