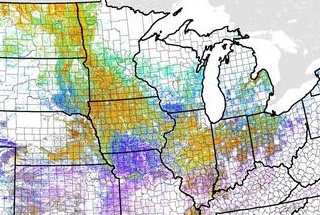 Does spring seem like it's coming early this year? Unacceptably late? Either way, the U.S. Forest Service has a collection of maps for you.
The maps are available online through ForWarn, which "provides real-time tracking of vegetation changes across landscapes" across the country via satellite imagery.
Researchers have been collecting the satellite images for 14 years, using them to provide foresters, land managers, farmers, and others with big-picture information about the impact of natural disasters such as last summer's hailstorms in Nebraska and Iowa as well as plant damage from insects that eat leaves.
They've now used those images to create a series of colorful, detailed, and addictive maps, including one that shows the median beginning of the growing season since 2000.
"The start of the annual growing season is among the most important climate-sensitive measures that ForWarn can provide," explains U.S. Forest Service's Eastern Threat Center research ecologist Steve Norman. "Just as gardeners look to climate data to determine the typical last frost date, the typical greenup dates provides a baseline for land managers to establish expectations for seasonal duration and productivity."
Those can vary dramatically, of course, from state to state. But the ForWarn maps also show the difference in greenup dates for agricultural, metropolitan, and natural areas.
"In the Midwest, the start of greenup on croplands is normally considerably later than for the surrounding natural vegetation," according to the Forest Service. "Deciduous forests are composed of long-lived perennials that respond to warming temperatures or the lengthening photoperiod of spring. Natural herbaceous plants and grasses can similarly respond quickly once spring arrives. In contrast, most crops are annuals that require mechanized seeding and germination before greenup is detectable from space. This delay causes sharp differences in the date of normal greenup between crop and natural vegetation."
The researchers at ForWarn have prepared a handful of greenup maps for Indianapolis, Columbus, Chicago, Central Illinois and other areas here, but tech-savvy farmers can also get a broader view by going to the interactive greenup map for agricultural areas.