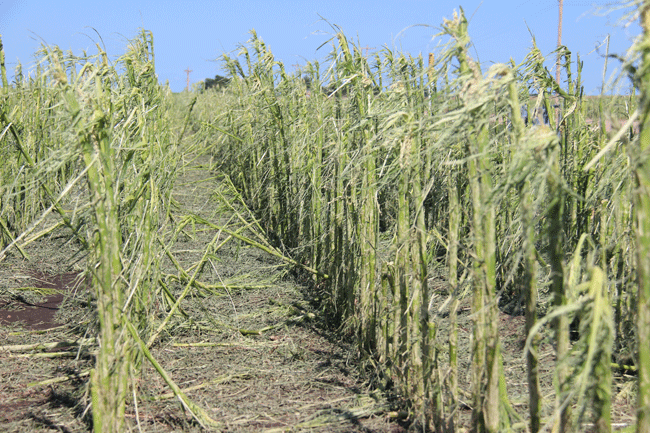 Tales of hail are never pleasant, like this central Nebraska farmer describing its high cost in a recent submission to AgWeb's Crop Comments.
"We watched on July 9 as the worst hail storm of our lifetime hit," he says. "Our local co-ops ran the numbers and came up with a minimum of 40,000,000 bushels of corn lost."
When hail strikes, what are the next steps you should take? Here is a three-step approach that several universities recommend.
1. Be patient. Iowa State University recommends your first move should be to call your crop insurance agent. After that, it makes sense to wait at least 3-5 days or longer after a hail storm to get an accurate damage appraisal. The plants will need some time to recover.
2. Determine the crop growth stage. Bob Nielsen, Extension corn agronomist at Purdue, explains why this is important.
"The effects of leaf death on yield increases as the plants near silking, and then decreases throughout grain fill.," he says. "Therefore, the grower needs to determine the leaf stage of the crop when the hail damage occurred."
3. Assess plant health accurately. There are numerous online resources that will help give you a way to accurately estimate damages, including the University of Wisconsin, Purdue University, University of Nebraska-Lincoln, DuPont Pioneer and others.
A good place to start is estimating percent of leaf area the hail destroyed. The USDA developed the following table to serve as a guideline.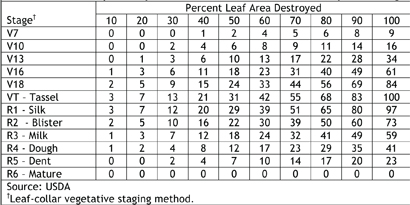 "Leaf damage by hail usually looks worse than it really is," Nielsen says. "Tattered leaves that remain green and connected to the plant will continue photosynthesizing. It takes a practiced eye to accurately estimate percent leaf death by hail. With that caution in mind, percent damage to those leaves exposed at the time of the hailstorm can be estimated and used to estimate yield loss due to defoliation alone."
Don't forget that hail-damaged corn also runs a heightened risk to vector certain diseases. In the video below, Tamra Jackson-Ziems, UNL plant pathologist, describes which ones to watch for in particular.
For soybeans, The Ohio State University notes that the R1 (beginning bloom) to R5 (beginning seed fill) stages are the most sensitive to defoliation. At 50% defoliation during the R3 growth stage, research indicates farmers can expect to see a 9% to 18% reduction in yield. Click here for soybean loss estimates based on amount of defoliation. 
To read the latest crop production conversations, or to start your own, visit the AgWeb Crop Production discussion forums.