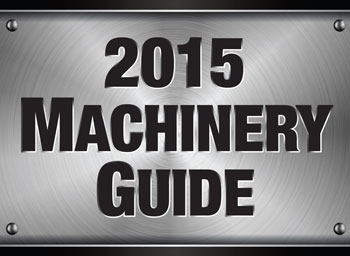 The No. 1 question in the used machinery market is a matter of numbers and time 
You've likely noticed dealer lots are overflowing with large late-model used equipment. While predictions say the market will absorb inventory in a year's time, I'm doubtful based on the trends I've seen play out in 25 years of tracking used machinery values.

So, what happened to large late-model used equipment values after the price of corn spiked in 1996 and then took a turn in the other direction? 

That question chased me back 18 years in my auction data. My hard cash sale data shows used values for 200 hp or larger tractors and combines fell hard in the late 1990s into the early 2000s (see table below). 

Note the shaded area of the data table and how sharply values fell: 
John Deere 8300 tractor values fell 6.3% in 1998; 4.8% in 1999; 11.8% in 2000; and 6.6% in 2002. 
John Deere 8400 tractor values plunged 8% in 2000; 15.1% in 2002; and 11.3% in 2003. 
Case IH 2188 combines fell 19.3% in 1999; 11.7% in 2000; and 9.9% in 2001.
An oversupply of large late-model used units was a problem from 1998 to 2003, just like it is now. Our price data showed a 57.9% jump in the number of John Deere 8300 tractors sold at auction in 1999, which was followed by an even bigger 63.3% jump in the number sold at auction in 2000. There were way too many tractors sitting on dealer's lots those years. They had to move—and eventually, they did at the lower prices you see in the table.

Perusing through auction data, I found one auction that encapsulates the same challenges dealers face today. The dealer-only lease/return auction on Sept. 20, 2000, in northeast Iowa, featured 25 John Deere 8300 tractors. It's no wonder values fell.

It's important to note the period of higher corn prices back then was a blip compared to the five-and-a-half-year run that ended mid-2013. There was a lot of new iron sold during that time. 

Of course, tax incentives (Section 179 of the Internal Revenue Service) encouraged much of the most recent iron-buying spree. This powerful incentive for equipment purchases wasn't in place in the late 1990s. 

Multi-unit purchases from dealers also became a big deal, so farmers were not just buying one new item, but two, three or four on an annual or biannual basis. That added up to a lot of new iron sold and one- to three-year-old machines being traded.  

My data shows there was a significant six-year (1998 to 2003) down period for large late-model used equipment values the last time the price of corn fell off comparatively short-lived highs. This time, however, we're coming off higher highs that lasted longer.

Based on the extent of the drop in corn values and excessive amount of inventory, it will take more than a year to work through the glut on dealer lots. 

In reality, large late-model used values started to fall about 15 months ago, in 2013. For example, John Deere 9770 STS combines slipped 12.4% in value in 2013, from an average auction price of $163,784 in 2012 down to $143,530 in 2013. This year, values dropped 15.2% to an average auction price of $121,732. 

A vast selection of large late-model equipment, coupled with lower prices, will provide farmers plenty of buying opportunities in 2015.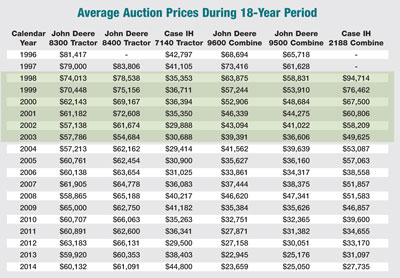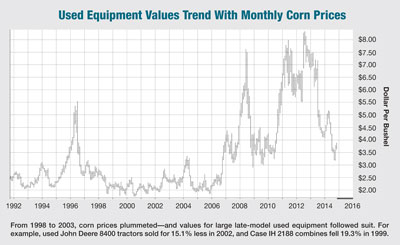 ---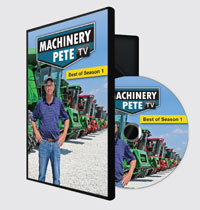 More Tales from the Auction Trail
Season 2 of "Machinery Pete TV" airs on RFD-TV every Saturday at 12:30 p.m. CST with repeat airings every Tuesday at 4 p.m. CST. 
A 90-minute DVD featuring the best of Machinery Pete's first season is available for purchase. While you're at it, pick up his Classic Tractor Price Guide, which highlights the past four years of auction prices and stories. 
Call (877) 248-7285 or visit www.ShopFarmJournal.com