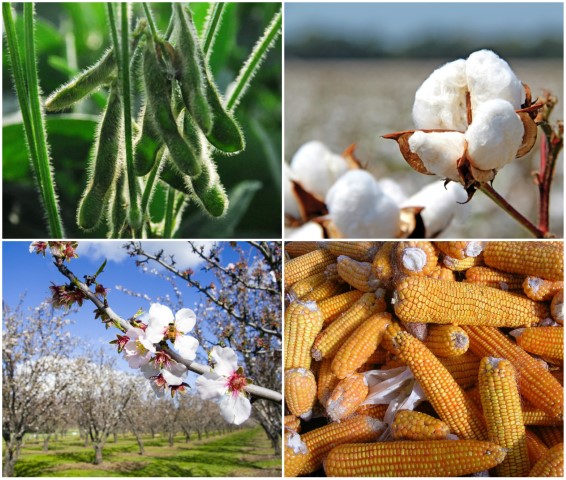 U.S. agricultural exports remain a bright spot in the economy. In 2016, the country shipped $134.9 billion dollars' worth of food and fiber overseas. That's a $20.3 billion surplus. However, the percentage of a given commodity that is exported varies quite a bit, according to data from USDA's Economic Research Service.
In a recent report, ERS looked at the export share of several U.S. commodities between 2013 and 2015. Leading the pack was cotton, which exports roughly 75% of its crop each year to global markets. The majority heads out to countries like Canada, Mexico and Nicaragua.
Two-thirds of the U.S. almond crop also leaves U.S. borders each year. Grown almost exclusively in California, they represent almost 80% of the entire world's supply.
Lower down the list, soybeans and wheat export almost half of those crops. Meantime, pork exports hover around 20%, corn around 15% and beef around 10%.
"Food is a noble thing to trade," Secretary of Agriculture Sonny Perdue said during a USDA reorganization announcement May 11 in Ohio. The U.S. is already good at this, but Perdue said by creating a new position –  undersecretary for trade and foreign agricultural affairs – USDA will bring even more opportunities to market.
"There's a hungry world out there," he said. "The good news is, there's a growing middle class able to pay for U.S. soybeans and beef and poultry and pork. The undersecretary for trade is going to get up every day and discover where those markets are – being on their front step when they open the door in the morning, saying, 'How can I take your order?'"