The National Climatic Data Center (NCDC) has released its latest monthly climate update for the U.S., confirming what many Midwesterners had already guessed. Weather so far in 2014 has been historically cool in the Heartland.
In fact, 11 states experienced some of the coldest January-to-July temperatures on record. The list includes Alabama (No. 10 coldest YTD on record), Minnesota (10), Missouri (10), Indiana (7), Iowa (7), Michigan (7), Arkansas (5), Illinois (5), Wisconsin (5) Louisiana (4) and Mississippi (4). July in particular saw twice as many record cool temperatures (5,508) than record warm temperatures (2,605).
The West Coast sat at the other end of the spectrum. Blistering temperatures have dealt California the hottest YTD on record, with Nevada (2) and Arizona (3) not far behind.
This "tale of two extremes" made the country appear to have an "average" year of temperatures to the untrained eye. The average temperature for the contiguous U.S. during July was 73.3°F, just 0.3°F below the 20th century average. That puts it nearly in the middle of the 120-year period of record.
Precipitation was another matter. July was historically dry, the NCDC reports. In fact, 2014 had the 26th driest July on record.
Next, NOAA says it will monitor the following three climate events closely:
1. Persisting and intensifying drought in parts of the West and Great Plains. Drought could significantly affect agriculture if it persists in these areas, and wildfire risk is also heightened.
2. El Niño is still probable later this year. Currently, NOAA is predicting a 65% chance of this happening, down slightly from last month.
3. The Southwest could experience monsoon conditions. But will the rains bring short-term drought relief – or flash flooding concerns?
Meantime, farmers – especially those in the upper Midwest – eagerly await the next three-month temperature outlook from NOAA. The most currently available outlook, issued July 17, shows below-average temperatures expected for large sections of the Corn Belt in August, September and October.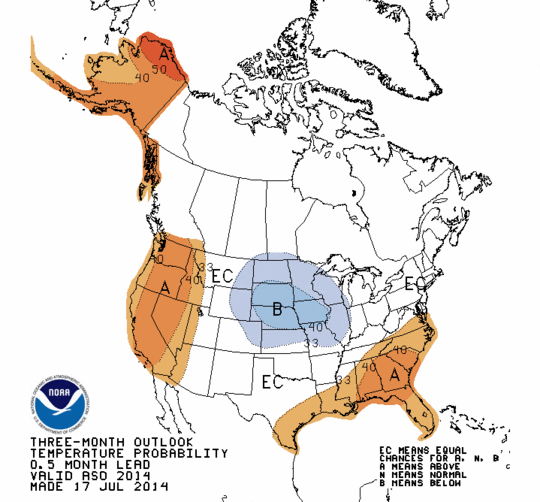 Will this translate to more incidences of early frost? Time will tell.
For more national and regional climate analysis from NOAA, visit http://www.ncdc.noaa.gov/sotc/national/2014/7. And share your own thoughts on fall weather predictions on this AgWeb discussion thread.