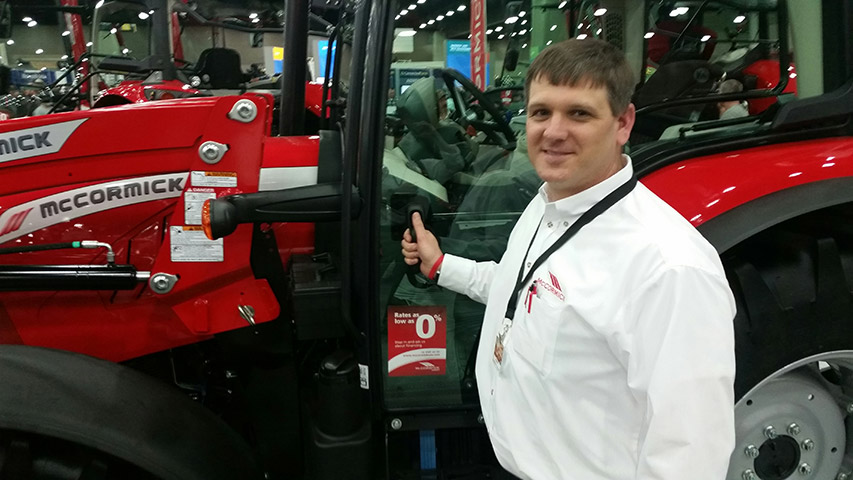 As a product and marketing manager for McCormick USA, Taylor Grout says he fields a lot of questions at events such as the 2015 National Farm Machinery Show. One of the most common questions is simply, "Who is McCormick?"
Some of the confusion stems from the company's prior history as a brand name under Case IH, which divested the McCormick brand and associated manufacturing facilities back in the early 2000's. But Grout says McCormick has been rolling steadily along since that time.
"We're an independent company," he says. "We're McCormick. We stand on our own two feet and provide the quality tractors that our customers need. We're an independent, more personal alternative to some of the other bigger manufacturers."
For 2015, the company is expanding its X4 series and introducing a new X6 series.
The X4 expansion includes three new models – the X4.20, X4.30 and X4.40. These models use a Duetz 2.9 liter, 4-cylinder diesel engine that is compliant with Tier 4i emissions requirements. Horsepower ranges from 64 to 79 HP, allowing McCormick to enter into and compete in the small utility class segment of the agriculture market.
"These tractors are about performance and capability," Grout says.
The new X6 series, meantime, ranges from 111 to 133 maximum engine horsepower and Grout says is a big step forward from McCormick's successful X60 Series mid-range tractors. There are two initial models – the X6.420 and X6.430. They each use a BETAPOWER 4.5 liter, 4-cylinder diesel engine that generates huge power and torque while keeping fuel consumption low and complying with EPA Tier 4i emissions standards.
Both models also feature a standard 4wd front axle with integrated front brakes and a fully locking front differential that can engage simultaneously with the rear differential to provide true 4-wheel pulling. In-cab features include an adjustable steering column, climate control and deluxe air ride seat. For more details on these tractors, visit www.mccormickusa.com.
This year's National Farm Machinery Show ran Feb. 11-14 in Louisville, Ky. Visit http://www.agweb.com/national-farm-machinery-show/ for complete event coverage.