After our initial look into farm equipment's genealogy in 1990, we received consistent reader interest in updating the family tree. Our most recently published pedigree was in 2004. Since then, the table hasn't branched out as much as it has grown closer together.
Like your own family, as you move up, down and across the branches you'll find similarities and differences among the companies. As an industry, they are facing many of the same obstacles (such as tighter emissions standards and currency fluctuations) but are enjoying an overall successful year.
While demand is strong, companies are trying to boost efficiencies in production. A common theme is tighter manufacturing practices, which is being achieved by consolidating manufacturing of related products.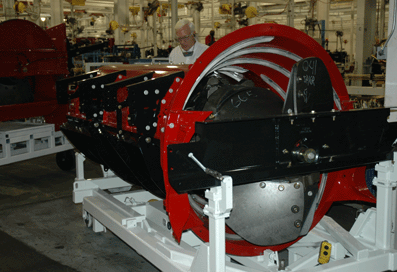 In Grand Island, Neb., Case IH  has added 104,800 sq. ft. of factory space for a self-propelled windrower line that joins its full line of combines, including those using the AFX rotor shown here.
Case IH moved the production of its self-propelled windrowers to the Grand Island, Neb., facility, where the company's full line of combines relocated in 2004 with the closure of the East Moline, Ill., facility. These machines use the same cab, and many of the components—drivelines, transmissions, axles and valves—are manufactured in Racine, Wis.
Tightening manufacturing can be read between the lines of our table. As part of a $13-million revitalization of the Hesston, Kan., facility, the buildings and manufacturing square footage have been repurposed. Since 2007, planter frames are trucked daily from the AGCO factory in Beloit, Kan., but assembly remains in Hesston.
The shift to Tier 3 engines in January 2007 changed all of the companies' pedigrees. To signify the engine change, manufacturers turned out new models, within the same horsepower range, but factory locations often did not change.
The farm equipment business is increasingly global, but our listing is limited to machines available in the U.S. and tractors 40 PTO hp or greater.
AGCO adds a new leg to its lineage with tractor brand Valtra, which is from the Scandinavian countries.
After joining together, Landini and McCormick centralized their headquarters in Norcross, Ga. McCormick had been located in Pella, Iowa, since its reintroduction after the CNH merger. McCormick USA is owned by ARGO S.p.A., a family- owned Italian company.
The company moved its tractor production from Doncaster, United Kingdom, to existing facilities in Fabbrico, Italy. A 40% currency fluctuation during the past five years is cited as the primary driver in the location change. The Doncaster facility will serve as a global parts distribution center and regional office. 
Several items have been removed from John Deere's listing since 2004. Most significantly, many of its small implements and hay tools have been incorporated into the Frontier brand.
As agriculture grows globally, manufacturers are gaining international cousins and moving machine-making capabilities to those regions.
John Deere is expanding its factories in Brazil, India and China. Most recently, the company acquired Benye, a manufacturer of 20-hp to 50-hp tractors in southern China.
German-based manufacturer Claas opened its second factory in India. The company has built a combine factory in the northern state of Punjab to make machines tailored for the harvesting conditions of that region. The company has manufactured combines in Russia since 2005.
No doubt, there will continue to be mergers, acquisitions and new business ventures to track in this family tree.
Who Makes What Where

(Chart highlighting tractors, combines, cotton pickers, application equipment, implements and hay/forage tools.)
Page 1
Page 2
---