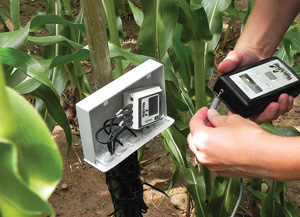 Technology and agriculture are blending together at a rapid pace – so much so that the time is ripe for a multitude of new career opportunities, according to Charlie O'Brien, AEM senior vice president and ag sector lead.
"Agriculture has evolved into an incredibly sophisticated industry, a dream job for technology enthusiasts," he says. "No wonder companies like Google are looking at our sector with great interest."
He says these tech innovations span from the plants where equipment is manufactured to the farm itself. A trip to a manufacturing plant today will show visitors a world of robotics, 3D modeling and 3D printing, O'Brien says. He also envisions a world not far from now where machinery dealerships and even some farms will use 3D printers to manufacture parts on-demand.
Additionally, software engineers and outside companies are figuring out how to harness the powers of big data to make it smart data, he adds.
"Farmers and their partners are working together to determine how to use this data, integrate it with other data sets about soil types, weather, rainfall and inputs, all to make the world a better place by producing an abundance of food for a growing world population," he says.
Phil Jennings, Kinze Manufacturing service manager, says emerging farm technology also gives farmers new opportunities to become more efficient, which is especially important in today's farm economy.
"Farmers are asking if some of this technology will lead to a positive return on their investment," he says. "Farmers want to be sure that what they're doing adds value."
Not all farmers are "stereotypical data-crunching people," Jennings adds, but dabbling more in technology can pay real dividends, he says.
"We need to step out of our comfort zone a little bit and take some training on new technology components to improve our bottom line," he says.
O'Brien sees several new technologies, including sensor capabilities, evolving rapidly in the future, and points to the explosion of drone use in agriculture as another technology the industry is beginning to embrace.
"If you are a technology buff, ag equipment manufacturing and the development and creation of products used on the farm is the place to be today," he says.