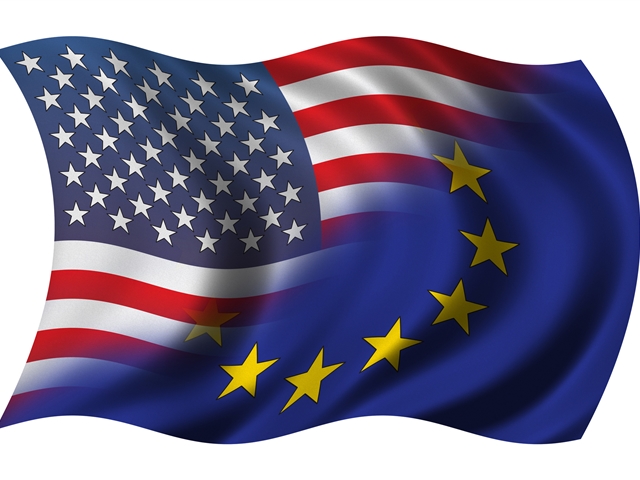 If you think massive global trade agreements don't matter to the American producer, think again. Every farmer and rancher in the United States feels their effect in the market daily. Although the North American Free Trade Agreement (NAFTA) of 1994 is probably the most pervasive, the General Agreement on Tariffs and Trade (GATT) is another milestone that has affected trade and U.S. farm policy. 
A number of new trade deals are in the works that could influence agricultural trade for years to come. To smooth the way, the Obama Administration began seeking Trade Promotion Authority in 2012. The U.S. Senate plans to take up this policy tool when it returns from spring break, April 21. It is widely 

regarded as crucial to the adoption of any trade agreement because it requires Congress to vote on any pact without amendments, thereby raising the odds of passage.
Many bilateral agreements are moving through negotiations, including the one with Cuba. The two broadest agreements in the news right now are:
Trans-Pacific Partnership (TPP): This proposed partnership would include the U.S. and 11 countries bordering the Pacific Ocean. Ongoing negotiations were top of mind during Japanese Prime Minister Shinzo Abe's recent visit to the U.S. The potential for additional market access is big. Parties involved with TPP represent 42% of total U.S. ag exports, while Europe accounts for only 8%. Tariffs remain high in some cases; for example, European ag import tariffs on U.S. goods are estimated to average 30%, while Japan's tariffs average just 19%.
Transatlantic Trade and Investment Partnership (TTIP): This proposal seeks to liberalize trade between the U.S. and Europe.
With these in the news, now is a good time for producers to review the opportunities and challenges posed by agricultural cooperation on a worldwide scale. Keep in mind these three are the big elephants in the room; many bilateral agreements are in the works, not the least of which is Cuba.
NAFTA Lays Trade Groundwork. A recent study of NAFTA by USDA—Economic Research Service (ERS) shows the impact on U.S. agriculture has been positive for crops and livestock alike. For example, trade liberalization coupled with growing feed demand in Mexico increased purchases of U.S. feed grains, oilseeds and related products from an average 8.3 million metric tons per year during 1989-92 to 18.5 million metric tons during 2008-12.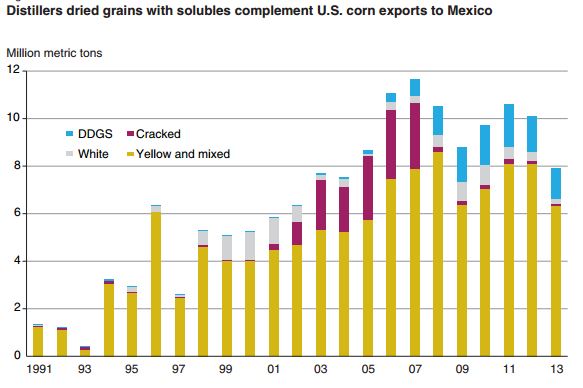 Meanwhile, Mexico built imports of U.S. corn from 16% to 31% of its supply, even as its own corn produc-tion increased. Additionally, U.S. wheat and rice exports to Mexico have quadrupled since NAFTA's inception, ERS adds.
The agreement also integrated the North American fruits and vegetables market. Imports of some products into the U.S. have more than tripled since NAFTA's start. Before the agreement, net imports from Mexico represented about 15% of U.S. supply; now, several food categories have increased by at least 10 percentage points.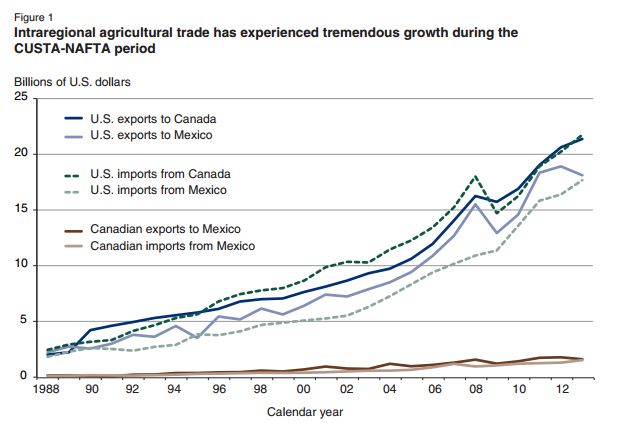 Complicated Analysis. On the flip side, acreage planted to some types of vegetables, such as asparagus and tomatoes, has fallen in the U.S. since NAFTA began. Similar impacts could be seen under the proposed Trans-Pacific agreement, according to some studies.
Critics also point out that while U.S. exports have soared with NAFTA, imports have rocketed even more. Advocacy group Public Citizen reports the average annual U.S. ag trade deficit with Mexico and Canada is "$975 billion, almost three times the pre-NAFTA level." But in some cases, imports are used to fill gaps created by seasonal production. In others, it is a clear matter of competitive advantage: farmers grow products where they can be produced most efficiently.
To understand the factors complicating trade agreements, producers must consider the economies of the countries involved. Population growth, income gains and product prices can fuel or stall trade growth. For example, the drought of 2012 influenced prices and, therefore, U.S. exports.
Spotlight On Europe. For an excellent illustration of trade aspirations and challenges, producers should look to the European Union (EU). In its case, the very definition of the trading partner is an issue because the EU's market size increases each time it adds a new member. On the flip side, EU growth might create losses for U.S. exporters as Europe sources more goods internally.
Although Europe's importance as an agricultural trade partner has diminished over the years, it still ranks No. 5 after China, Canada, Mexico and Japan, according to USDA. Important categories of exports to the EU this past year included oilseeds such as soybeans, nuts, animals and animal products and feeds.
Yet spats over GMOs, antibiotic use in meat production, dairy growth hormone and biofuel policies have put up barriers to imports of U.S. ag products. It does not appear likely the proposed Transatlantic trade deal, in negotiation since November 2011, will convince Europeans to loosen controls on GMOs or other production practices.
"The way we regulate things like GMOs and food safety will stay just like it is," says Cecilia Malstrom, EU trade commissioner. "[The Transatlantic pact] will not force the EU to import GM foods EU regulators haven't already approved, hormone-treated beef or meat from cloned animals."
This proposal and others like it face a long and hard slog, even though there are bright spots.
"Prospects for a U.S.-EU transatlantic trade and investment deal are more realistic today than at any time in the past decade," notes a 2013 paper by Michelle Egan, American University of Washington. "In principle it is a winner for both sides. The question is whether the same level of political support will be maintained as the de-tails are hammered out."
Others are not so optimistic.
"There will be problems selling an agreement on both sides of the Atlantic," says Gary Blumenthal, presi-dent of World Perspectives. "Some would like to finish negotiations this year, but it looks more like 2017."
Policy Gridlock. He adds the Obama administration is encountering more opposition than ex-pected to the proposed U.S. Trade Promotion Authority from its own Democratic Party. "When combined with a minority of Republicans disinclined to give anything to President Obama, some believe the entire trade agenda is at serious risk," Blumenthal explains.
Of concern, he points out, is that Sen. Ron Wyden—the top Democrat in the Senate on trade who is up for reelection in 2016—is being targeted in his home state of Oregon and has resisted signing on to the trade au-thority proposal. On the plus side, he says, House Minority Leader Rep. Nancy Pelosi (D-Calif.) has changed her tone on the issue and says her party's members are trying to find a way to get to "yes" on the issue.
As for progress on the Trans-Pacific proposal, Blumenthal's outlook is mixed.
"Understanding that TPP is geopolitically important to its pivot toward Asia and competition with China, lobbying by the administration has intensified, though there is no signal yet of the kind of back door deal-making that may be required to get it done," he says. "World Perspective gives slight odds in favor TPA/TPP success, but won't be surprised if it comes up short."
---
Top 15 U.S. Agricultural Export Destinations
Calendar year; value in US $; source: USDA—Foreign Agricultural Service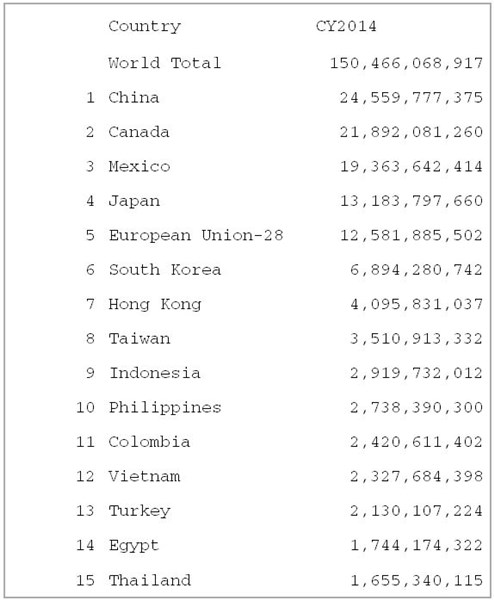 ---