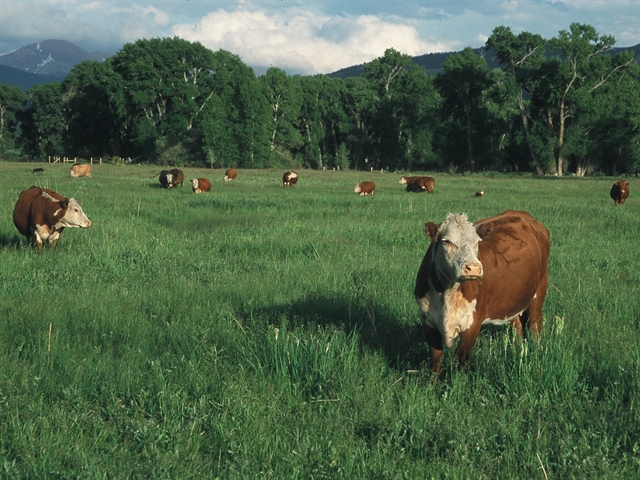 Beef lovers aren't the only ones with sticker shock from the shrinking U.S. cattle herd. Fewer cows also mean tighter supply of hides used in luxury-car upholstery, handbags, shoes and Anita Dungey's dog collars.
"The last couple of years have been horrendous," said Dungey, the president of Auburn Leathercrafters, a collar and leash maker in Auburn, New York. Her leather costs rose 83 percent in two years to $8.25 a foot. "It's been hard to keep up," forcing Auburn to boost prices by as much as 10 percent, the most in at least three decades, she said.
While ranchers raise cattle mostly for meat, a single hide can produce enough leather for 11 cowboy boots, 20 footballs or one bucket seat. The herd began the year as the smallest since 1951, after record feed costs and drought over the past decade. Output is dropping just as Americans boost spending on leather goods and luggage to the most in at least 14 years.
The cost of U.S. beef has surged to a record this year, and leather isn't far behind. Heavy native steer hides rose 17 percent in the 12 months through Nov. 8 to $122.30, the highest since the government began tracking the benchmark in 1998. Global demand is growing with improved sales of cars and luxury items, especially in China. Boot-maker Wolverine World Wide Inc., which bought $300 million of leather last year, says prices will remain near all-time highs.
Smaller Herds
The domestic herd fell to 87.7 million head on Jan. 1, down 1.8 percent from a year earlier, after the smallest calf crop since 1949, U.S. Department of Agriculture data show. The number of cattle slaughtered this year will drop 6.5 percent, said Jim Robb, an agricultural economist at the Livestock Marketing Information Center in Denver.
Cattle futures for December delivery settled at $1.6775 a pound yesterday on the Chicago Mercantile Exchange, up 25 percent this year.
About half of all leather produced ends up in footwear, 30 percent is used in automobile interiors and furniture, and the rest goes into apparel and accessories, the industry-funded Leather Industries of America estimates.
U.S. consumers will spend $21.58 billion on leather goods and luggage in 2014, the highest since at least 2000, according to Los Angeles-based industry researcher IBISWorld. The Bloomberg U.S. Consumer Comfort Index climbed 23 percent in the 12 months through Nov. 2.
Coach Inc., the top seller in the $12 billion U.S. handbag market, says demand is rising for higher-priced leather goods. Bags fetching more than $400 accounted for 30 percent of sales in the third quarter ended Sept. 27, up from 21 percent a year earlier, Francine Della Badia, the company's president of North American Retail, said on an Oct. 28 earnings conference call.
Faux Leather
With leather accounting for as much as 60 percent of the cost to make a bag, shoe or boot, buyers will start switching to other materials including canvas or imitation leather, said Ken Maxfield, president of The Maxfield Report, a hide-market publication based in Sergeant Bluff, Iowa.
"It's a very clear trend," Maxfield said. "Leather has gotten to the point of being unaffordable in certain items."
Wolverine, the Rockford, Michigan-based boot maker, doesn't expect leather costs to come down anytime soon, which will fuel demand for cheaper alternatives.
"A lot of our shoes are being re-engineered with materials that are not leather or not 100 percent leather," Chief Executive Blake Krueger said in an Oct. 14 earnings call. "Frankly, the millennial consumer is growing up mostly in non- leather shoes."
While high-end leather products may see little reduction in demand, makers of low-end items will seek alternatives to avoid losing cost-conscious consumers, said Shep Hermann, president of Hermann Oak Leathers, a St. Louis-based tannery.
Slow Rebound
It may take years to rebuild the U.S. cattle herd. Even after corn-feed costs dropped from a record reached in 2012, parts of Texas remain in severe drought, limiting pastures for grazing in the biggest cattle-producing state. The gestation period for a calf is about nine months, and animals need another two years to reach slaughter weight.
Global cattle herds aren't increasing as fast as the world population, and the U.S. is the largest producer of high-quality hides for luxury goods, according to Tom Elam, president of Indianapolis-based FarmEcon LLC.
At the same time, demand for leather is growing in China, where the economy has grown almost sixfold in the past decade. Incomes are rising for consumers in the developing world who are spending more on designer bags, shoes and cars, said Stephen Sothman, president of the U.S. Hide, Skin and Leather Association.
Car Upholstery
Global sales of cars rose 5 percent last year to 76.3 million units, and gained 2.7 percent in the first three quarters this year, data compiled by Bloomberg Intelligence show. Purchases will reach a record 23.8 million units this year in China and exceed 16 million units in the U.S., the most since 2007, the data show.
Average transaction costs for vehicles in the U.S. have risen to a record $32,712, as higher trade-in prices and low interest rates encourage Americans to opt for luxury packages, said Kevin Tynan, an auto analyst at Bloomberg Intelligence.
"You're seeing luxury content moving down further into lower priced vehicles," Tynan said in an interview Nov. 3. "The buyer is getting more for their money right now, and it's enabling buyers to stretch a little further and say, I can do a leather interior or a luxury car."
Adding leather seats to a car costs about $1,400, said Gonzalo Morales, a manager at Grossinger Toyota, a dealership in Chicago.
No Substitute
Leather accounts for half the cost of bags and briefcases made at Saddleback Leather, which has eaten into profit, President Dave Munson said. After the Fort Worth, Texas-based company raised prices by 7 percent last year, leather costs jumped 17 percent. He's streamlining designs and investing in more efficient equipment to narrow the gap because he says there's no good substitute for quality leather.
"It ages beautifully, and it shows the life of the bag," Munson said. "You can carry it for 20 years with no problem, and it carries all those memories. It's been with you for your first child, when your dog died, that bag has been with you, and there's a charm there."