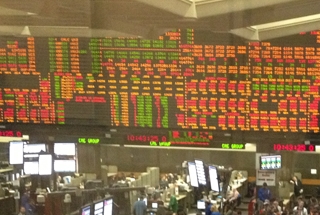 The funds are taking long positions in soybeans right and left, which has driven soybean prices up $2.32 in roughly a six-week period, says Mark Gold, Top Third Ag Marketing. Now the question is whether prices are drive even higher.

"I don't know that the rallies are finally over," Gold tells "AgDay" host Clinton Griffiths on the Agribusiness Update segment for Monday, May 16, 2016. "Can we see a summer drought? Sure we can. But I believe, particularly in the soybean market, between now and June 29 or June 30 before we get the acreage report, we can see these prices slip back."
Since winter, analysts have predicted a price opportunity would come along, Gold says, and it's been "incredible." That means farmers should evaluate their marketing plans because conditions could emerge that push prices lower.
"If we take out the highs that were made this week [of May 8] in the soybean market, then we have the chance to continue this rally," Gold says. "But the funds are long 200,000 or 225,000 contracts of soybeans out here. How much more can they push it on their own? Where's the good news going to come from? Well, certainly we had some export sales to unknown, probably China today. But that's not going to be enough, in my opinion."
Gold predicts farmers might switch acres from corn, rice and cotton to soybeans given the price boost that crop has experienced. Already, the corn-to-soybean ratio has risen from 2.2 to nearly 2.8, he says. At the same time, it's important to examine USDA figures in perspective.
"The big driver in the soybean market was the carryout for this year, looking at 305 [million bushels], a major shock 100 million [bushels] more or less than what they were looking for," Gold explains. "I don't believe some of the government numbers. It's based on the acreage from the March 31 report."
Click the play button below to watch the complete "AgDay" interview with Gold.