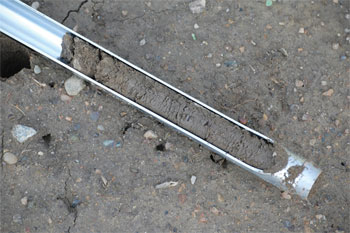 Don't wait until spring to begin thinking about soil fertility, says Robert Mullen, director of agronomy for PotashCorp. Instead, start your plan by examining whether it's time to take soil samples and, if so, how to gather them accurately.

Reviewing your soil-sampling methods will help maximize yields next year.

"It's just like anything else," Mullen says. "If it's something you're very familiar with, you tend to overlook it."
(Click to read: Four Fall Fertilization Tips)

Start by plugging your yield data into a nutrient removal calculator. One such tool is available from PotashCorp, a primary producer of nitrogen, phosphorus and potassium. Using the free online calculator, growers can approximate the volume of nutrients crops have removed from the soil over the last one to two years. 

Based on the results, decide whether to sample this year or whether nutrient levels are adequate to wait for next year, Mullen says. Assuming a fertility upgrade is needed, it makes good sense for farmers in the Midwest to take soil samples in the fall rather than the spring.

"If you're planning on doing all of your field activities in the spring, you're going to put yourself in a bit of a bind timewise," Mullen says.

Next, visit the website of your local land-grant university for soil-sampling recommendations. For example, The Ohio State University Extension recommends pulling soil samples at a depth of 8", while Oklahoma State University Extension recommends sampling at 6".

The risk of pulling too shallow a sample is that the resulting soil will contain a high concentration of nutrients not representative of the entire soil profile. Conversely, samples pulled from too great a depth might be lacking in nutrients that are present elsewhere.

A good rule of thumb is that once depth is determined, between 15 and 20 cores should be pulled to create a picture of how the soil is leaning, on average, as it relates to pH and nutrient levels.

"We have to collect the correct number of cores to compose a composite," Mullen says.

When collecting cores, be sure to use a clean sampling probe and a clean shovel. Place cores inside plastic buckets as opposed to those containing iron or other oxides, which can throw off micronutrient levels during lab testing.

Finally, be sure there is sufficient moisture in the ground to take a soil sample. In some cases, Mullen says, it might make sense to sample for pH in the spring, when more accurate data can be obtained.