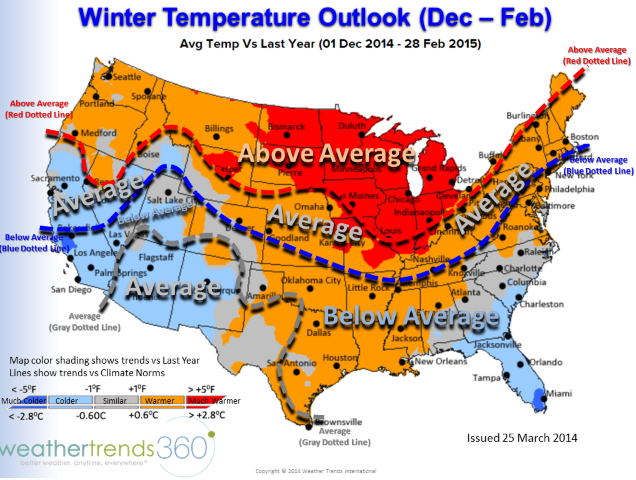 Weather forecasts are a little like snowflakes, jokes Bill Kirk – that is, no two seem exactly alike.
"If you put 1,000 meteorologists in a room and asked for a forecast, guess what you'd get?" he asks. "Yup, 1,000 different forecasts – and 1,000 different reasons why they'd be right."
Kirk is CEO of weathertrends360, one of many players in the long-term forecasting game. Kirk says meteorologists go about long-term predictions in various ways. For example, he says NOAA prefers to lean on El Niño / La Niña cycles and "the trend is your friend" persistence concept.
"In other words, if it's been hot and dry, continue to forecast hot and dry," he says.
Others prefer taking an analog approach by lining up current climate, oceanic and solar cycle indices and comparing it to a month with similar conditions from the past 120 years of recorded weather data. There's danger to doing this. That's because scenarios that are similar on paper can still play out quite differently in the real world.
"It might work okay for a month-ahead forecast, but not so great for year-ahead," Kirk says. "Anyone telling you this winter is identical to last year must really love cold, snow and letting emotions get in the way of reality."
Kirk says weathertrends360 relies most heavily on "good old math" when making long-term predictions – "statistics with a mix of 24 climate cycles, topographical factors, and a trade secret twist to bring it all together."
So what does weathertrends360 think the 2014/15 winter has in store? They are not predicting the bitter cold and snowy winter that some groups, most notably the Farmers' Almanac this past week, are calling for. The map below shows expected temperatures relative to last winter: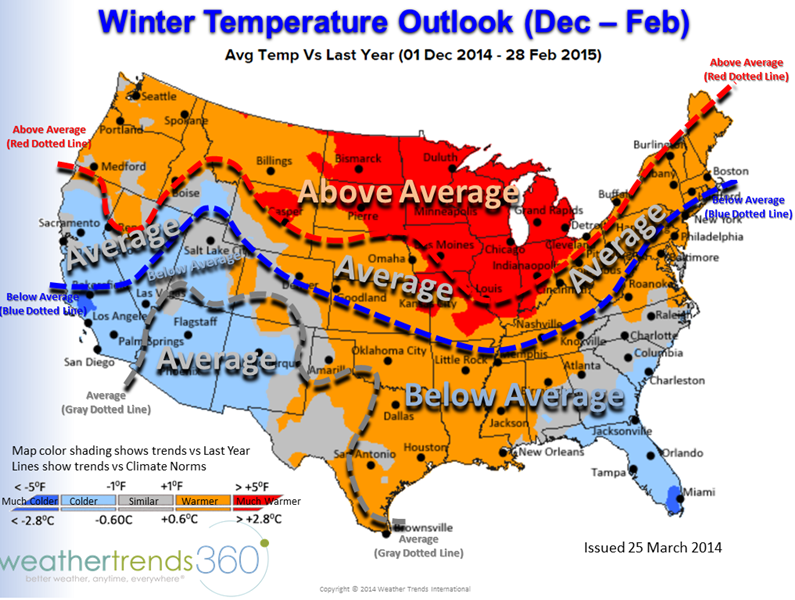 (Click image to enlarge)
"This chart shows we still think the winter will be colder than average for the U.S. overall, but not the epic cold some are forecasting," he says. "Long-term, we are in year 7 of the cold 30-year PDO phase that started in 2007, so the frequency of colder and [more snowy] winters is much more likely for the next 20 years."
weathertrends360 is not predicting an overly wet winter either, Kirk says. Much of the Midwest is marked for "average" precipitation, with below-average moisture expected in the Great Plains. Above-average moisture is expected in the Southwest and West, he says.
For additional analysis, visit www.weathertrends360.com/Blog/.