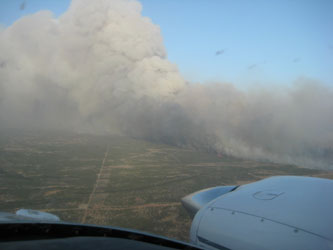 Crews battled more than 65,000 acres of wildfires in Texas yesterday, according to news reports.
One wildfire in West Texas spread to more than 60,000 acres on Sunday in Jeff Davis County and destroyed about 40 homes.
Texas Forest Service spokesman Alan Craft says another West Texas fire burned 16,000 acres in Midland County and destroyed about 34 homes.
Another 71,000-acre fire in Northern Texas did not destroy any homes because it was in a rural area of rolling plains.
A Texas firefighter was in critical condition with severe burns Sunday afternoon after fighting an estimated 20,000-acre fire in the northern Panhandle.
The Federal Emergency Management Agency is expected to respond to some of the state's massive fires. Texas is also getting help from firefighters from two dozen other states
In Oklahoma, where Governor Mary Fallin has extended a 30-day state of emergency she declared on March 11, firefighters and helicopters on Sunday mopped up the smoldering remains of two fires that erupted Saturday.
One wildfire in Cleveland in north central Oklahoma charred more than 1,500 acres and forced 350 people to evacuate while another struck near Granite in southwest Oklahoma.
The Texas Fores Service offers these prevention tips:
Obey outdoor burning bans. Don't burn trash or debris when conditions are dry or windy. Unsafe burning of leaves, brush, household trash and other debris is the No. 1 cause of wildfires in Texas.
Keep lawn mowers and agricultural equipment in proper working condition and avoid rocks and other materials which might cause a spark.
To report suspicious activities, call the Arson Hotline at (888) 501-3850. If possible, safely obtain an accurate description of the person and/or vehicle (including the license number) before calling the hotline.
Humans cause more than 90 percent of all wildfires. Do not weld or cut without a spotter, a water source and a shovel.
Online resources for livestock impacted by wildfires: