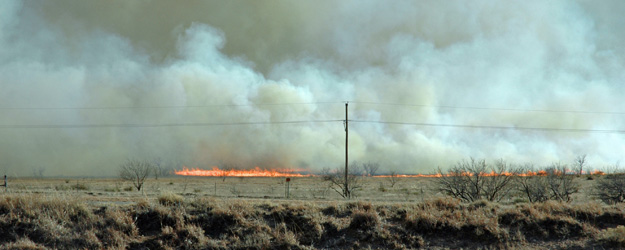 Wildfires continue to rage in Texas as extremely dry and windy conditions have turned the entire state into a giant tinder box where the smallest spark can set acres ablaze.
To date over a million acres have been affected and Texas Governor Rick Perry is requesting Major Disaster Declaration for the state of Texas as a result of the continuing wildfire dangers. In a letter sent to President Barack Obama over the weekend, the governor identified 252 Texas counties presently threatened or impacted by wildfires.
Since wildfire season began, Texas fire officials have responded to 7,807 fires across the state that have burned more than 1,528,714 acres and destroyed 244 homes. One firefighter has died and 18 others injured.
Near Strawn Texas, rancher Joel Stephens says fires have so far burned 1,200 acres of his family's ranch, but they've been lucky since nearly all their livestock are accounted for and the fire did not burn their house, hay or barns. There's still a threat though as winds switch direction. Stephens, who is also a firefighter, is prepared to take steps to save the home and barns should the fire start moving back.
He says the landscape around there resembles what you see with tornadoes. Some homes are devastated while others are intact almost like an oasis in the desert.
In some areas, town officials are packing up essential documents and closing courthouses as fires move closer. And homes in the fires path are being evacuated in order to save lives.
Firefighters from all over have moved into help control the blazes. "When the fires first started, we had local firefighters, but now there are firefighters helping battle the blazes from other areas," says Stephens. And earlier this week the Texas Forest Service ordered additional aerial resources to help battle the wildfires
As Stephens was talking on the phone, he was watching fires blaze up again and moving with the changing wind directions. His ranch is still in danger, and unfortunately, the weather doesn't look like it will be changing anytime soon. But hopefully some unexpected showers will pop up soon and the winds will die down to help slow the movement of these fires.
You can monitor the current Texas wildfire situation here.
How to Help:
Texas Agriculture Commissioner Todd Staples announced for those wanting to lend a "helping hand" make a donation to the State of Texas Agriculture Relief Fund, or STAR Fund. Follow this link to donate to STAR Fund.
Resources for those affected:
For those affected by wildfires, the Texas and Southwestern Cattle Raisers Association offers a resource page: http://www.tscra.org/wildfires.html