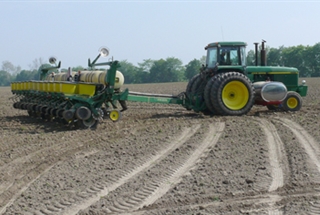 As farmers continue to shake their heads at USDA's estimate of 93.6 million corn acres planted this spring, analysts are already wondering how long the unexpectedly high number will last.
"I think that number we saw (in USDA's Prospective Planting report) will be the highest number that we see all year, honestly," said Angie Setzer of Citizens Grain, speaking on U.S. Farm Report.
"Weather-wise, we're already seeing some slowdowns," she noted. "Some of the biggest increases in acreage that we saw were in the fringe acres—North Dakota, Kansas—or in the Delta, and right now, the Delta's already behind in planting progress from where they want to be. We have about two weeks before they're going to have to make decisions, or they're going have corn pollinating during the extreme heat of the summer, so I think you'll see some transitions here."
For now, though, farmers are stuck with a very unfriendly number for corn plantings.
"This acreage number is what the trade has to start with, and without the changes moving forward to see what the weather is going to be and what soybean prices are going to be in the coming months, we're going to have to start with this number as we move forward in the trade," said Craig VanDyke of Top Third Ag Marketing, also speaking on U.S. Farm Report.
Watch the U.S. Farm Report segment here:
As planting and growing season progresses, though, these estimates could change significantly—in either direction.
"I think realistically, speaking, though, from a corn standpoint that yes, Thursday's numbers from USDA probably are going to be the most bearish that we see all year," Setzer said. "At the same time, I'm going to come out and say that the soybean numbers are potentially the most bullish that we'll see for the year, so we need to keep that in mind. If we do see a switch that may benefit corn prices in the summertime, we've got to be aware of what that switch is going to be and how it will impact the other market."
Could weather be a factor? Yes, but it's too soon to start banking on that.
"It will be the market's job to try to steer corn acres away and try to build more soybean acres, so if we can get the market moving (in) that direction … we might start to see some realistic changes in the acreage numbers that will ultimately push corn to the low," VanDyke said. "Early summer—that's when you start to look at weather. As of right now, get the weather out of your mind. We don't know what it's going to be, and you can't predict it moving forward."
Are you adjusting your planting strategies based on the March USDA planting data? Let us know  in the comments.