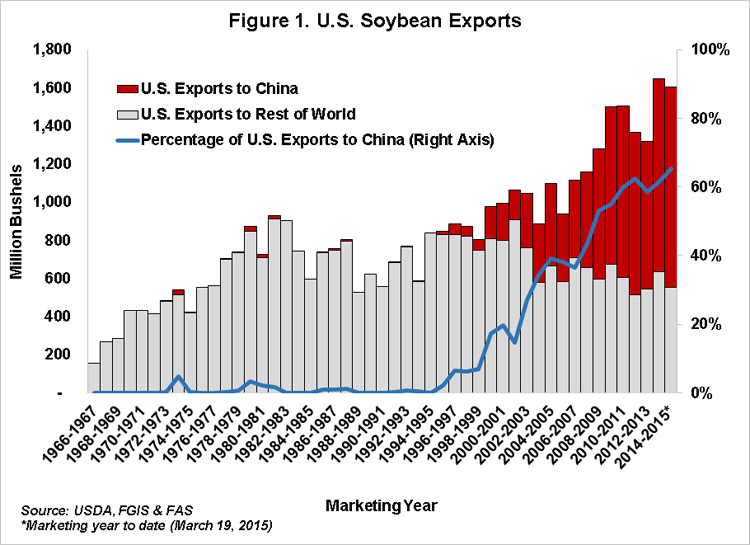 It wasn't always this way, but in the past two decades, China has emerged as the world's biggest importer of soybeans, including a projected 1.171 billion bu. from the United States during the 2014-15 marketing year, according to recent analysis by University of Illinois ag and consumer economists, John Newton and Todd Kuethe. They reported their latest import observations on the university's farmdoc daily website.
That's a stark contrast from the mid-1990s. For the 1995-96 marketing year, China imported only about 18 million bushels of soybeans. Since that time, however, the country's economy enjoyed rapid annual double-digit growth. Today, China could stand to import as much as 2.7 billion bushels of soybeans worldwide, according to USDA projections.
"Put simply, as the world's largest importer, China's massive appetite for soybeans is a significant driver of global and domestic soybean markets," the authors write.
Newton and Kuethe developed a novel way of depicting this rising demand.
"One way to visualize China's demand for soybeans is to map the consumption categories as they relate to county-level soybean production acres across the U.S," they note.
Mapped out this way, one can see that Chinese demand for U.S. soybeans in 1995-96 was satisfied by the production of just two counties – McLean and Livingston counties in Illinois (shown in red below).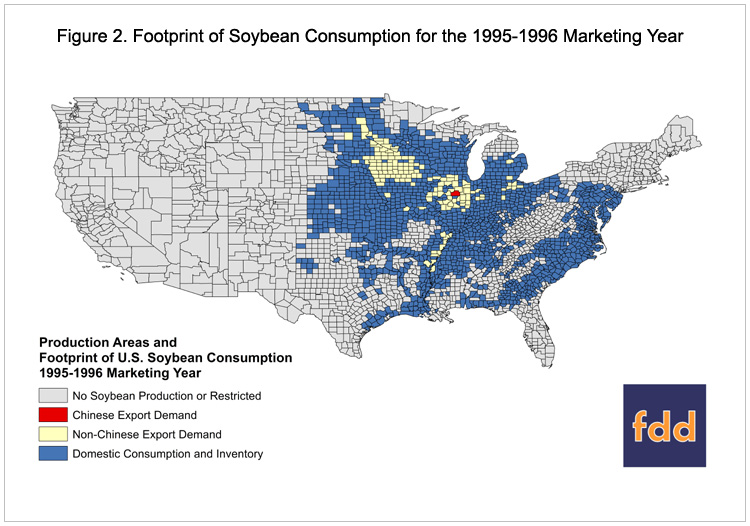 Now fast-forward to the 2014-15 marketing year. The USDA estimates that U.S. soybean exports to China could total 1.171 billion bushels.
"To meet this forecast of Chinese export demand production from the top 133 counties would be required," the authors write. "This geographic footprint spans from the Upper Midwest, through the Corn Belt and down into the Mississippi Delta."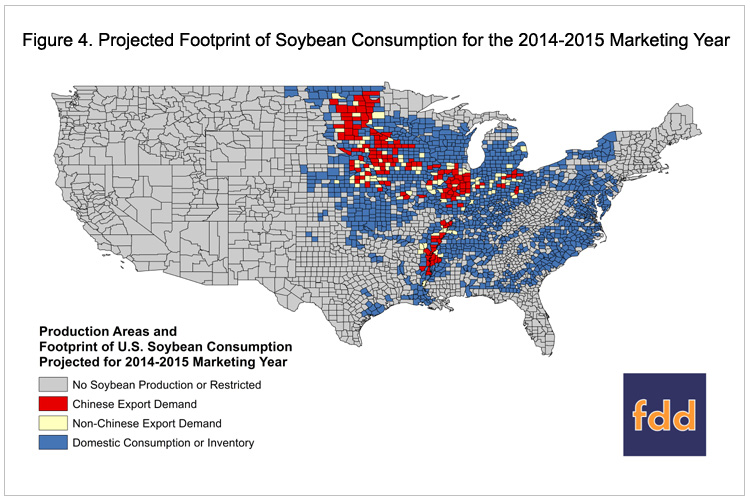 Newton and Kuethe also note that as U.S. exports to China have risen, they have also declined in 40 other countries by a total of about 400 million bushels. The lion's share of this decline belongs to lower exports to Japan, South Korea and Taiwan by nearly 150 million bushels since 1995. Then they ask the essential question – "Are all our beans in one basket?"
"While historical growth rates have been impressive, recent forecasts suggest the Chinese economy is unable to maintain that growth rate," they note.
With another bin-busting crop expected for 2015, soybean farmers should keep a sharp eye on several factors, including competition from other countries (especially Argentina and Brazil), and understand how the value of the dollar can influence export opportunities as U.S. commodities fluctuate in value relative to those elsewhere in the world.
"It will be especially important for U.S. soybeans to continue finding a Chinese home if prices are expected to remain at or above current expectations," the authors write.
Want more market talk and speculation? Visit the "Marketing 2015" thread, which is by far the most popular conversation on the AgWeb discussion boards.