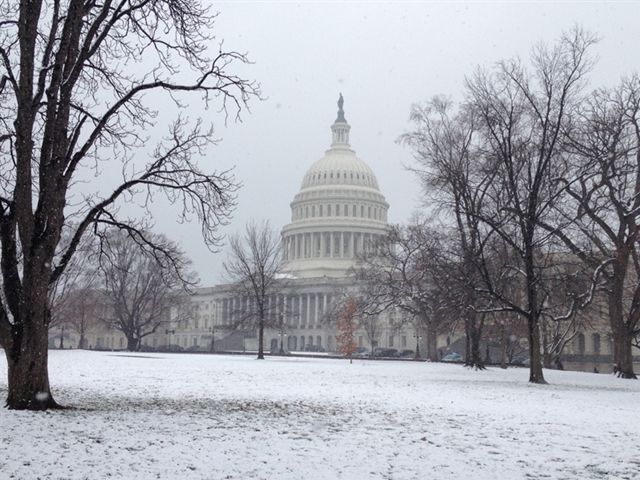 The worrisome future for a popular federal tax break among farmers just got a little bit brighter.
Under a compromise deal reached in Washington, the U.S. House of Representatives has approved a proposal that would both expand the expired Section 179 tax deduction from the current $25,000 to $500,000 and extend the break for one year, to the end of 2014. The Senate is expected to vote on the measure next. If approved by Congress, it could go to the White House early next week for President Obama's signature, giving farmers and machinery companies an early Christmas present.
"If the bill gets signed by the President by this Monday or Tuesday, we still have a good three weeks [before the tax year ends on Dec. 31]," accountant Paul Nieffer said on AgriTalk Wednesday. "That gives our farmers a lot more time to get out and find the right piece of equipment.  They're not scrambling to buy a piece of equipment because they know they can deduct it."
Listen to the full interview here:
If the measure passes as expected, it would be a win, but also a close shave for farmers and machinery companies.
Section 179 allows business owners to depreciate the cost of equipment in the year it was purchased, rather than spreading it over a period of years, giving farmers a chance for a major one-time tax deduction.  As a result, it has created a behavior pattern for farmers' machinery purchases.
"Every year since 2003, auction prices [for farm equipment] have gone up in November and December," said farm machinery expert Greg Peterson, also known as Machinery Pete. "Farmers have been trained to think of equipment purchases—new or used—as a way to minimize taxes."
But the status of that deduction has been questionable after Congress failed to extend the break when it expired in 2013, leaving farmers with just a limited $25,000 Section 179 deduction. "That doesn't account for a sneeze on a $450,000 [piece of farm equipment]," Peterson said.
The situation has left Peterson fielding question after question from farmers, implement dealers, and even auctioneers wondering whether Section 179 would be extended.  "It has been a growing crescendo the second half of the year," he said.
It's also a critical issue for machinery companies, which are already seeing their business hammered by low crop prices. Earlier this year, Deere and Co. laid off hundreds of workers, citing slowing demand for its agricultural machinery. In November, it reported that it expected its net sales to drop 15 percent next year.
"Farmer sentiment is being negatively impacted by the outlook for deteriorating farm economics, and we are experiencing softer industry equipment demand in all major markets," said Martin Richenhagen, AGCO's chairman, president, and CEO, in the company's third-quarter financial release. "Industry demand in North America has weakened with significant declines in sales of high-horsepower tractors, combines and sprayers, partially offset by growth in the lower-horsepower categories due to improved conditions in the region's dairy and livestock sectors."
Against that backdrop, machinery companies are hoping for good news from Washington. "One factor that will greatly impact and improve production and sales levels for agricultural machinery companies is the passing of Section 179," said Gary Thompson, COO of Krone North America.
"It's the biggest thing in their minds every day," Peterson said of machinery companies and Section 179. "Pick a color—it doesn't matter … They want this tool to be there, because they know how latched on to it farmers are."
How has Section 179 affected your machinery purchases? Will the extension (if it passes) make any difference to you this year? Should this tax break be made permanent? Share your thoughts on the AgWeb discussion boards.