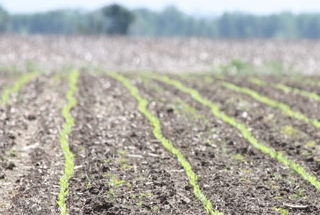 As many as 4 million acres could shift if corn prices remain unchanged and producers look to plant more soybeans in 2015, predicts Chip Nellinger, Blue Reef Agri-Marketing

"With the price break you've seen and ours getting ready to start in on the February crop insurance averaging period here, it doesn't look very good," explains Chip Nellinger, Blue Reef Agri-Marketing, during the "U.S. Farm Report" Marketing Roundtable. "I think producers are crunching the numbers right now. Inputs haven't really come down at all from a year ago. However, corn prices are way lower than a year ago. I think it's going to have a very negative influence on acreage."
In particular, farmers in the South and the Delta are hardly even talking about corn.
"There's going to be way more soybean acres down there," Nellinger notes. "As you talk to seed salesmen here in the heart of the Corn Belt, in the "I" States, their corn sales are down and soybean sales are way up. I think if things don't change—and there's still time to change this price relationship between corn and soybeans over the next 70 days—if nothing changes, I think we're subject to planting way less corn acres maybe even than the market anticipates right now."
Yet there remain unknowns when it comes to acreage, adds Jim Bower, Bower Trading.
"Let's say we have 87 million acres instead of 89 million acres," Bower says. "Let's say instead of using 167.7 five-year national average yield, let's use 162.2, which is the 20-year average. Keeping demand pretty much the same, that boils down to a 985 million bushel stocks. 985 million bushel stocks equals 7% stocks-to-use ratio. 7% of stocks-to-use ratio equals $4.50 or $5 corn. So in unison with Chip's comments, we don't know about the acreage. Nobody knows, but acreage is going to be a huge component."
Both agree weather will be a major factor this year. It's easy to make the case for $5 corn if a weather scare occurs after corn acreage by falls between 3 million and 4 million, Nellinger says. At the same time, he notes, a case can be made for corn prices under $3 by fall depending on how various factors shake out.
Click the play button below to watch the complete "U.S. Farm Report" Marketing Roundtable: 
---
Do you think there will be a major shift away from corn acres in 2015? Visit our discussion thread on the subject to weigh in.