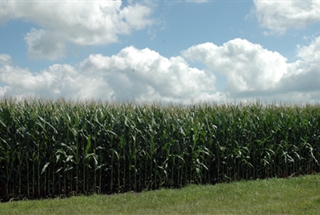 When it comes to the number of corn acres that will be planted this spring, everyone seems to have a slightly different opinion.
Chip Flory, editorial director of Pro Farmer, falls into the group that believes farmers will plant more, not less, acres in 2016.  
"We've got to take into consideration that last year, we lost some acres to prevent plant and everything," said Flory, speaking on U.S. Farm Report, which was recorded at the Top Producer Seminar in Chicago last week. "… There's going to be some room for debate in there (on the corn/soybean split), but right now I'm sitting at about 89 million acres on corn … (and) 84.5 million to 85 million acres on soybeans."
Allendale's Bill Biedermann also expects more corn acres this year—as many as 1 million more—and trendline yields.
Others aren't convinced that corn acres will grow in 2016.
"I would be a little more on the side that we could lose a few corn acres," said Chip Nellinger of Blue Reef Agri Marketing. "I've been talking to bankers this winter. I think the fringe areas—the far north and North Dakota and some of the more marginal ground in the South—could swing out of corn."
Matt Bennett of Bennett Consulting, who joined Nellinger, Biederman and Flory on U.S. Farm Report, believes farm profitability could be a factor. "I think the ROI for most people on reasonably productive farmland says you should plant corn, but I'm kinda like Chip (Nellinger)," Bennett said. "Given the financial constraints we've had in the last 18 months or so, there are a lot of producers who are not quite in the cash position they were in before. When you get in a marginal type of situation, especially if it's a high input or high cash-rent deal, it's pretty tough for a guy to put a pencil to corn and really make that work. Unfortunately, I think in some situations, the bank may have a little more to say about that this year than they have in the last few years."
Watch the U.S. Farm Report segment here:
Could a weather scare solve these problems? Perhaps, but the analysts on U.S. Farm Report also cautioned on the dangers of banking on a drought leading to $6 to $7 corn this summer.
"You can put those numbers in play, but I sure wouldn't market for them. I wouldn't lay my marketing plan out in anticipation of even $4.50 corn at this point," said Flory, who urged farmers to consider their costs of production. "… I think we need to look very seriously at our break-even levels. Let's look at how many dollars per acre it costs me to put in an acre of corn and then whatever combination of price and yield I'm getting in total dollars coming back in on revenue. Quit thinking about $5 corn or $4 corn. Let's think about $750 an acre and how I am going to get past my total cost."
Should you ignore the possibility of a drought affecting prices? Not exactly. "Nobody was expecting a drought in 2012," said Nellinger. "Usually these things take you by surprise, so I'm not throwing water on (the prospect of a weather problem in 2016) because these long-range weather guys have been pretty accurate for a while."
The key for growers, he added, is to set up a marketing plan that leaves you the room to take advantage of a weather rally without leaving yourself exposed to the risk of a weather event that doesn't happen and a rally that never comes.
"Let's think about if we do have that drought," Nellinger added. "The uncertainty is why we are talking about it in January. What's that going to do to your psychology in June and July when it does get a little dry? Fast-forward yourself psychologically … and have a plan to know what you're going to do if and when that happens."
Just don't bet the farm on it.  If you do, "you're going to be looking at the headlines coming right at you," Flory said. "You're not going to be able to move." 
Will you plant more, fewer or the same number of corn acres in 2016? Let us know in the comments.