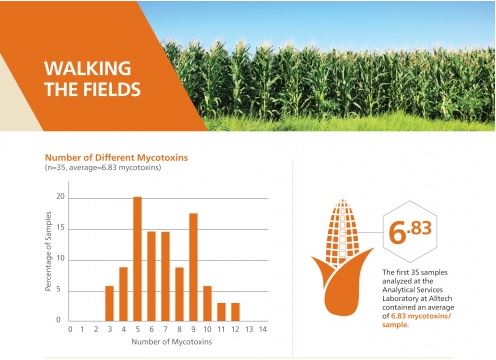 A potentially record-breaking harvest. A wet fall across much of the Midwest. Max Hawkins, a nutritionist with Alltech's Mycotoxin Management Team, is interested in knowing whether a high level of mycotoxins might be along for the ride – a concern, especially for grain used to feed livestock.
"Cool, wet weather can be a precursor for mold growth and can lead to possible mycotoxin issues," he says. "Fusarium graminareum can produce a variety of mycotoxins and prefers high moisture and temperatures from 59 to 85 degrees Fahrenheit. This year's growing season was cool and wet, and the harvest season has also been delayed by wet weather."
Fusarium has already made an appearance in the earlier harvested wheat crop, especially in areas that included east of the Mississippi River, the Dakotas and Canada. Levels of Deoxynivalenol (DON) in these regions tested as high as 15,000 ppb. Hawkins says this scenario places wheat at potential high risk for livestock feed. Exercise extreme caution when feeding straw to ruminants.
Corn silage samples taken to-date have also raised some red flags, says Heath Paradice, technical manager for Alltech Crop Science.
"The 2014 corn season started off slow due to wet planting conditions and cool soil temperatures," he says. "As a result, while some corn was planted in April, most was done in early to mid-May, and in some cases like northern Iowa, planting extended into June. The late-planted crops are doing better than expected due to a late fall, but that corn is coming in at a higher moisture content."
Corn that is stressed and damaged by weather events and insects is more susceptible to mycotoxins. When scouting fields, look for signs of molds, ear rot and stalk rot, although there can be toxins present even with no visible mold. Hawkins recommends taking samples to be analyzed for mycotoxins.
"The outlook for corn grain is concerning, as the crop has been subjected to a later harvest with increase rain while still in the field," he says. "The crop may be harvested at higher moisture levels, which can put added pressure on drying and storage environment to ensure grain at 15% moisture or less for long-term storage."
For more information on Alltech's 37 Mycotoxin Analysis Program, visit www.alltech.com. For an infographic highlighting more of the company's mycotoxin testing results, visit http://www.alltech.com/news/photos/walking-fields-infographic.