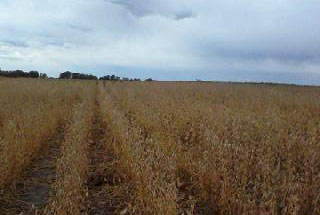 Farmland values around the nation may be dropping more than expected, and it's apparently been going on since December.
According to one economic expert, prices have fallen for the tenth straight month and it looks like the pace of decline may continue to quicken.
Watch the full AgDay report:
Each month, Creighton University economics professor Ernie Goss conducts a survey of bank CEOs in rural areas spread out between 10 different states. The banks give him the numbers and the results are raising flags for land values.
Land values are the lowest they've been in months and it looks like grain is to blame.
"Grain prices are down about 30% from this time last year. That's now spilling over into the ag sector. Farmers are just more reluctant to buy additional farmland," said Goss.
Goss says according to his Main Street Index Survey, until December, farmland prices were very strong, but now values are seeing a steady decline.
"We are probably in the neighborhood of a 5 or 6% decline. That's yearly annualized," said Goss.
It looks like it will keep dropping.
"I expect farmland prices to continue to move lower," Goss said. "I wouldn't say all news is bad, but it's certainly putting down the pressure of farm income and ag commodity prices and now finally farmland prices."
That goes hand-in-hand with grain.
"We will need to see what happens on the supply side. Given on what we know today, it looks like grain prices are moving downward," said Goss.
Goss says right now, farm support payments have helped farm income and a lot of farmers aren't selling at current prices because of existing contracts.
"The outlook of 2015 looks more negative in terms of farm income and in terms of farmland prices," said Goss.
But we can't just blame grain. He says supply, the global economy and a strong U.S. dollar are also contributing to the drop.
"The dollar has increased significantly this year and I expect that trend to continue," said Goss.
Goss gives this example. To support a payment for a $20,000-per-acre piece of land in Iowa, corn needs to be at $7 or $8.
"If they're selling at these current prices, they're not breaking even. Not at $3 or $3.50 a bu.," Goss said.
Meaning that until the fundamentals change, the trend of skyrocketing land values may be a chart of the past.
The survey goes to banks working mainly with grain producers. Given current prices, Goss believes livestock producers are in better shape.
Goss says farmland includes a wide variety for this survey. That includes irrigated, non-irrigated and pasture to name a few.