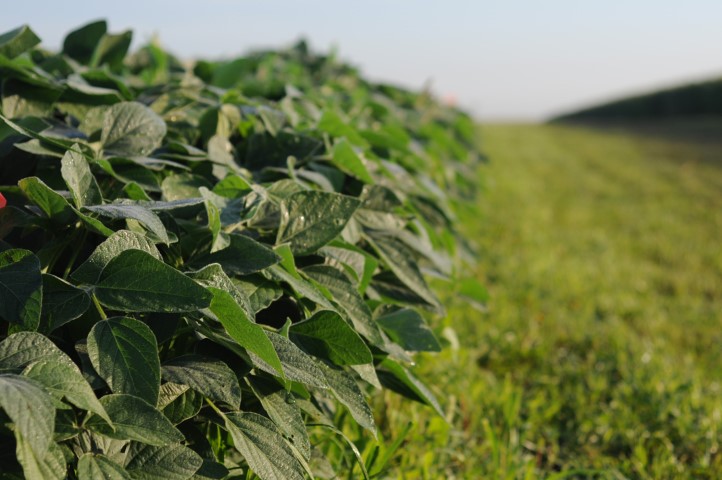 Ahead of the USDA's June 30 crop production report, market analysts and producers have been wondering if soybean acres will finally surpass corn acres planted for the first time since the Ag Department first began reporting acres.
According to the USDA's March prospective planting report, farmers were planning to plant 89,996,000 acres of corn, and just 514,000 fewer acres of soybeans.
---
Soybean acres planted may surpass corn acres in the USDA's June 30 crop production report for the first since 1983.
---
That's 3,600,000 less corn acres, and 6,000,000 additional soybean acres, compared to the 2016 prospective planting report.
U.S. Farm Report host Tyne Morgan asked Brian Basting, economist at Advance Trading, about the report. Basting says enough unfavorable spring weather could just tip the scales in favor of soybeans.
"We've seen a challenging spring across parts of the Midwest where we could not get some corn planted - actually replanted," Basting says, "Producers did eventually give up on those acres and then probably the plant more beans. It's unknown, but at this point I would say that's a strong possibility."
Not TECHNICALLY the First Time
Technically, this will not be the first time soybean acres have surpassed corn acres. In 1983, farmers did plant more bean acres than corn, by 3,500,000 acres. But according to Basting, that record has an asterisk by it.
"1983 was the year we were at that extremely burdensome supply of corn," he says. "The government introduced a program called 'Payment in Kind.' The producers were compensated through that program by idling corn acreage - actually idling bean acres too. But that year we did plant more beans than corn."
The USDA says more than 800,000 farmers enrolled in the 1983 PIK program. Soybean acres also fell that year by more than 7 million acres, but not nearly as far as corn's 21.6 million acre drop.
Read the Government Accountability Offices' 1985 assessment of the PIK program.
Basting says the markets got hit with a double whammy in the early 1980s.
"We had record yields back toback in 1981 and 1982," he says. "We were also in a time period when we had a weakening export market for corn because of the grain embargo to the Soviet Union, following the Soviet invasion of Afghanistan."
Although there's no fear of an embargo cutting into corn demand in 2017, talk of NAFTA renegotiations and the Trump administration's step back from the Trans-Pacific Partnership are both detrimental to corn and soybean exports.
Even though this year's shift in acres bears similarity to the early 1980s, there are also some key differences. Basting says the 1983 shift was also spurred by soaring interest rates and farm bankruptcies. Twenty-four years ago, the headline was the drop in corn acres. This year, the headline is the rise in soybeans.
If Soybeans Take the Lead, What Does it Mean?
Basting says that even if soybeans overtake corn in acres this year, it's not necessarily the tipping point for years to come.
"This year I think the producers definitely embraced beans. I'm not prepared at this point to say that producers are going to embrace beans - I think each year will stand on its own," Basting says. "I think producers have been impressed by how well soybean yields have increased the last couple of years. We've seen record soybean yields in each of the past couple of years and producers had been hesitant to embrace beans three, four, or five years ago."
As soybean yields continue to increase, the question of demand is top of mind. But Basting says he's not concerned.
"We're seeing unprecedented supply – both a record Brazilian crop in the bin and a potential record supply in the U.S. But we're also seeing record world demand," he says.
Basting points to not just China, but other parts of Asia and other developing markets as homes for these bin-busting soybean crops.
With so much fluctuation this time of year, brought on by these reports but also the weather, it's important for producers to keep an eye on their marketing options.
"What we encourage producers to do at this time of year is defend their venue balance sheets. By that we mean have positions in place that defend your balance sheet from weaker prices," he says. "It would also give you the flexibility to participate if the market where to rebound here in July and August - perhaps on any number of factors – due to the report or due to the weather."
What about Corn?
If corn acres do significantly fall in the June 30 report, corn prices may see a boost. But Basting says the bigger picture, in terms of corn prices, is what's happening in Brazil. Drought conditions in South America in 2016 helped U.S. corn exports, but Brazil is in the middle of a record corn harvest, that'll hit markets this fall.
"Once that crop in Brazil, which is forecast to be record by far, is safely tucked away, those exports for corn will displace U.S. exports aggressively, starting as early as September," says Basting.
He anticipates the full impact of that South American harvest will be felt into 2018.  
---
---