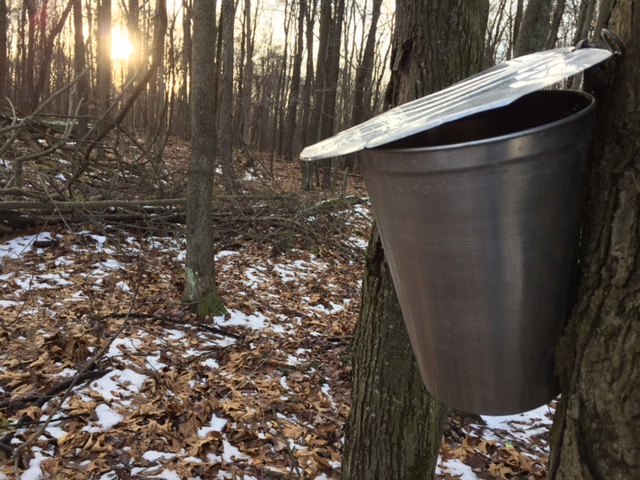 Tree sap splatters across the faces of Cub Scouts as one of them whacks a hammer at a spile, a sort of spigot, into a freshly drilled hole.
Sap drips. And an array of small hands rush to grab a sweet sample, then lick it, before they hook up a blue rubber tube that feeds the maple syrup production at Bendix Woods County Park.
Blue tubes run downhill from 261 taps on maple trees to a stainless steel tank, next to the sugarhouse. The clear, watery fluid, which will be boiled down into syrup, gushes into the tank like two open faucets — faster than anyone here can remember on tapping day.
Botanist Vic Riemenschneider chalks up the fast flow to a lot of "gas pressure" in the trees. Yes, he says, it has something to do with the freakish warmth, at 60-plus degrees, Saturday as dozens of volunteers converged to tap all of the eligible trees in the sugar bush.
If warmth persists, it could spell an early end to the maple syrup season. Once the tree buds start to break open, the sap will turn bitter. Silver maple trees have already opened their blossoms, Riemenschneider says, though silver maples produce only tiny amounts of sap anyway. Buds on the sugar and black maples, which yield the best sap, haven't yet opened, but he says, "I'm going to be watching them."
And the lack of swinging temperatures, from near freezing to thawing, could cut the tree's sap flow.
Matt Rhodes and his family rushed last week to hang buckets under taps on 19 trees on their Stevensville property. They'll be driving sap to Bendix Woods and dumping it in a collective tank to boost the park's syrup production. Anyone can donate sap — usually 10 to 15 locals do so each season — in exchange for a cut of the syrup, says interpretive naturalist Amal Farrough.
It's fairly simple to tap trees. So is cooking it down to syrup. But since it takes about 40 gallons of sap to make one gallon of syrup, it's a lot of work. The Rhodes family tried it two years ago, tapping nine trees. They spent an entire weekend boiling off the steam in a kettle over an outdoor fire, then brought it inside to finish the job on a stove. It turned into one cup of burnt offering, says Matt, who came Saturday to the park with his wife, two kids and an Italian exchange student.
What does it take to fill their buckets? Science.
Riemenschneider, a retired IU South Bend professor who grew up tapping trees on a maple sugar farm in northeast Ohio, says scientists have long debated two theories of why sap flows. They've come to agree that the truth is a combination of the two.
The "universal gas law" says that, in the cold, gases dissolve easily into fluid within the tree, he explains. Since the gases take up less space, that causes a sort of vacuum that draws water up through the roots.
Then, in the warmth, there's a reversal in pressure, pushing sap outward through a tap in the tree.
"That doesn't explain why sugar must be present (in the sap)," he says, in order for the sap to flow.
Thus, another theory: The sugar, which was made in the leaves during photosynthesis, is stored as starch in living wood about 2 inches in from the bark. In the cold, enzymes turn the starch into sugar. The sugar dilutes water in the tree. And when the concentration of water in the soil is greater than the water in the tree, that causes "osmotic pressure," forcing those fluids up through the roots.
Experiments have shown that trees lose some water from their vessels in the winter freeze, Riemenschneider says. That's good for syrup season because, in order for the sap to flow, there needs to be moisture in the ground and room for it to go in the tree.
Researchers have found that temperatures don't have to sink below freezing each night, he says, as long as it drops. At Bendix Woods, he says, Saturday's gushing sap slowed to a trickle Monday because of the mild nights. This weekend promises freezing temperatures, which he says can revive the flow.
There's no way to predict when the season will close. LaGrange County Parks set 595 taps on trees by Feb. 8 — a week earlier than average — at Maple Wood Nature Center and has already yielded more than half of its average production, says naturalist Scott Beam. That's based on data from 27 years of sugaring there. In the prior two years, it tapped trees 10 days later than average. Farming is a "gamble," he says, and Maple Wood's best year, 2013, came after the worst drought.
After the buds blossom, Riemenschneider says, the chemistry within the tree changes as it sends hormones to stimulate growth in the stems. Sap turns bitter. When leaves sprout, it ends the sap flow as the tree sends its sugars up to the leaves. Season over.