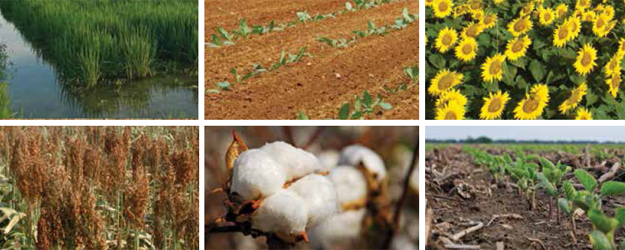 The annual acreage competition is always a wild card. Experts weigh in on which crops will claim the most ground this year.
With the brutal weather nearly every corner of the U.S. has seen this winter, it's hard to believe some farmers in the South have already begun rolling planters through their fields. For the upperMidwest, planting may still be a few months away. But, questions abound for which and how much of the major crops will be planted this spring.
Corn has definitely been king the last few years, as high prices and strong yields coaxed farmers in 2013 to dedicate more than 95 million acres to the crop. With this year's significantly lower corn prices, how many farmers will switch back to a more-even mix of corn and soybeans? Or will farmers dedicate acres to other crops, such as cotton, spring wheat or rice?
During its late-February Agricultural Outlook Forum, USDA pegged this year's acreage mix to be:
92 million acres of corn, (down 3.4 million acres from 2013)
79.5 million acres of soybeans, (up 3 million acres from 2013)
55.5 million acres of wheat, (up 700,000 acres from 2013)
11.5 million acres of all cotton, (up 1.1 million acres from 2013)
On March 31, USDA will release its forecast for planted acreage in its annual Prospective Plantings report. What will the report say?
So far, signs point to a heavy swing toward soybeans. Soybean prices have climbed significantly since January. China has been buying hefty amounts of soybeans from the U.S. and weather reports from South America show droughty conditions may clip their soybean production. "The market is trying to make sure farmers plant more bean acres," says Bob Utterback, Farm Journal Economist and president of Utterback Marketing.
Yet, Utterback says crop rotation and agronomic considerations, historically, trump price incentives. "Farmers don't typically like to shift their production mixes significantly from year to year," he says. "With the dry weather we've had and issues with continuous corn, I think guys have wanted to shift back to a rotation between corn and beans."
In Illinois, several economic incentives are in place to sway farmers into planting soybeans. Gary Schnitkey, University of Illinois ag economist, says soybeans are projected to be more profitable than corn, especially if a field was planted in in corn the previous year.
With lower prices projected compared to recent years, farmers will have to carefully assess input decisions to ensure profits. "Farmers will need more bushels to cover the costs of inputs," he says. Since soybeans are a cheaper crop to plant, he thinks farmers could lean that way. "Also, late planting may cause earlier switches to soybeans," Schnitkey says.
A Look at Corn Acres
The last few years of high corn prices have caused farmers in areas beyond the Corn Belt to dedicate large amounts of land to the crop. Now, Jerry Gulke, president of The Gulke Group, says those fringe states might shy away from corn.
"The big question is what what will the minor corn states do?" he says. "For the states that average 140 bu./acre corn, $4 corn doesn't look great, especially considering their expenses are the same as states that average 200 bu./acre corn."
Last year's wet harvest combined with a lot of unpriced grain in storage is also reducing corn's attractiveness for this year. "The love affair with corn when it was $7 isn't so amorous right now," Gulke says. "They are looking for something else, such as cotton, spring wheat or even peanuts."
Gulke is expecting potential acreage swings in the Delta, Dakotas and far Eastern Corn Belt. But, he says, corn acres need to decrease 5% in all states to make the market even semi-nervous. "That would mean the outlying states really move, as well as the heart of the Corn Belt," he says. "Somebody is going to have to drop big-time."

Other Factors at Play
Grain storage capacity, equipment purchases and tillage practices keep farmers locked in to certain crops, Utterback says. "Most farmers made their acreage decisions in the fall," he says. "I'd say 75% of the acres were decided when farmers did fall tillage."
Another major issue is crop insurance. The spring insurance prices are $4.62 for corn and $11.35 for soybeans, which means there is some major market risk before insurance kicks in, Gulke says.
With these lower spring insurance prices, Gulke says, the push for farmers to plant corn or soybeans into the summer is gone. "The incentive to plant every acre—no matter what the timeframe is—is just not there," he says. "Last year we planted corn until June 15 in Iowa. I don't think we'll see that because the market isn't paying you to do that."
Whether farmers own or rent their land could also be a factor. "If you own the land, you have more flexibility," Utterback says. "If you are renting it, you will plant the crop that makes you the absolute most money. I think from a cash flow standpoint, there is less risk with beans."
AgWeb's Ongoing Prospective Plantings Preview Reports
What should farmers expect in USDA's March 31 Prospective Plantings report? We are taking a somewhat regional approach. AgWeb.com editors will provide in-depth looks at about these key regions:
March 21: Eastern Corn Belt (Ohio, Kentucky, Michigan)
March 24: Western Corn Belt (Nebraska, Kansas, Colorado, Missouri)
March 25: The Dakotas (North Dakota, South Dakota)
March 26: The I States (Iowa, Indiana, Illinois)
March 27: The North (Minnesota, Wisconsin, New York, Pennsylvania)
March 28: The Delta (Arkansas, Mississippi, Louisiana, Tennessee)
What will you plant this year? Submit your crop plans to AgWeb Crop Comments by emailing [email protected].
 
---