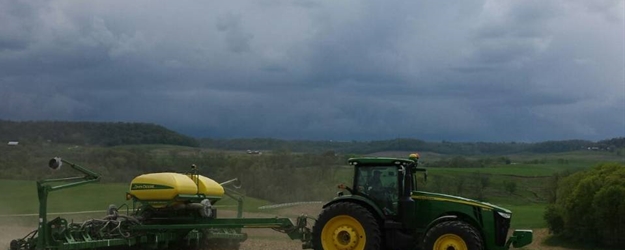 Don't let this year's slow planting pace allow you to draw too many comparisons to last year.
Corn planting was back on track, as of May 11. USDA estimated 59% of the corn crop was in the ground in its Planting Progress report released on May 12. That's one percentage point ahead of the five-year average and 33 percentage points ahead of this time last year.
Frigid temperatures and downpours stalled fieldwork in many parts of the country during the past week. As of Friday, the Plains were under freeze warnings and/or frost advisories. Rain showers accompanied unusually cold temperatures in the Corn Belt, according to USDA's agricultural weather highlights.
Yet, the forecast shows improving conditions. By early next week, a shift in the weather pattern will result in much cooler weather in the West, along with a warming trend across the central and southern Plains and the Midwest. The National Weather Service 6- to 10-day outlook for May 21-25 calls for near- to above-normal temperatures nationwide.
Weather Conditions Weigh on Markets
New-crop corn prices slipped this week. "What's hurting the corn market is that there's an open window for a lot of corn planting to get done the last week of May," says Jerry Gulke, president of The Gulke Group. "We did it last year."
But, Gulke says, farmers shouldn't think 2014 is a repeat of 2013. "We were going gangbusters at this time last year," he says. "Then it got warm and wet where Iowa couldn't plant very much until later in June. This cold and wet weather is causing a standstill. We've grown a big crop of corn under late conditions, but I wouldn't want to bet my farm on it."
Hear Gulke's full audio analysis:

Following the May 9 USDA reports, Gulke says the markets did a key reversal down to a favorable report. "That is a negative signal when the markets react negatively to what would otherwise be a positive signal," he says. "The market is trying to react to world fundamentals when the crop in the U.S. is not getting off to a very good start."
Acreage Estimate Revisions
On May 15, Informa Economics released revised acreage estimates, reflecting developments through early May. Gulke says that because of the weather and slow planting progress, Informa reduced corn acres from USDA's March corn acreage estimate by about 110,000 acres. Now Informa's corn acreage estimate sets at 91.58 million acres.
Other revisions of note, Gulke says, are Informa increased soybean acres and reduced corn acres in Iowa, and prevent planting acres in North Dakota were increased by 500,000. Also, Informa kept the national corn yield average at 163.5 bu./acre (not adopting the 165 bu./acre estimate from USDA).
In mid-March, The Gulke Group estimated 2014 corn acres at 90.07 million acres. "We had that lower acreage number long before we knew it would be cold and wet this spring or Ukraine was going to have a problem," Gulke says. "Our figures show the farmers hadn't intended to plant as much corn this year. If you are going to plant your corn, you better have a good marketing plan in place."
Have a question for Jerry? Contact him at 815-721-4705 or jerry@gulkegroup.com.

For More Information  
See current market prices in AgWeb's Market Center.
---