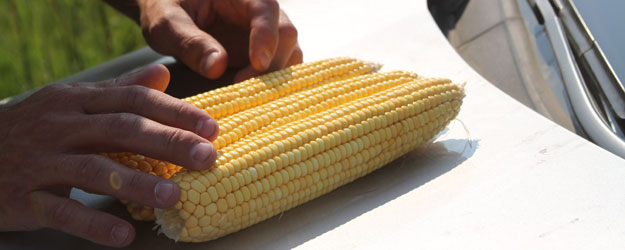 Next week, scout teams made up of farmers, market analysts, international traders and others will hit the fields for the 2014 Pro Farmer Midwest Crop Tour.
Collectively, they will travel nearly 30,000 miles through seven states to gauge the yield potential of this year's corn and soybean crops. This year marks the 22nd anniversary of the tour.
A record number of scouts are registered to gather around 1,300 samples of both corn and soybeans. A lot of people coming out to see this big crop, Chip Flory, Pro Farmer editorial director and host of daily radio program Market Rally tells Pam Fretwell of Farm Journal Radio.

"In 2012, we were out there trying to figure out just how bad the crop was," Flory says. "In 2013, the whole focus was on northern Iowa and Minnesota, trying to figure out of the crop would make it to maturity. This year, the goal will be to determine if this crop is really as big as everyone says it is going to be."
Yet, Flory says scouts go into the tour with a blank slate. "It's a discovery process," he says. "We don't want to go out with any expectations tattooed on the tour when we hit the road. But, we do let the market's expectations of the crop let us set the stage."
Everybody is talking about wild expectations for yields this year, Flory says. "People have even got record yields built in for the western Corn Belt," he says. "But, there are some challenge areas out there."
During the tour, which runs from Aug. 18 through Aug. 21, you can stay up-to-date with yield estimates and findings at www.Profarmer.com and www.agweb.com. Later an annual wrap-up summary appears in the September issue of Top Producer. 
For More Information
See full coverage of the 2014 Pro Farmer Midwest Crop Tour, hosted by Pro Farmer.
Follow the tour on Twitter with the hash tag #pftour14.
---