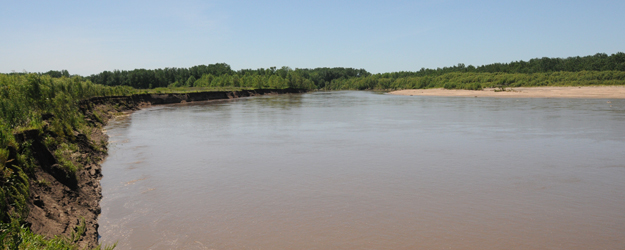 The Environmental Protection Agency and the Army Corp of Engineers were hoping to clear up a murky issue on March 25, when they released a proposed an expansion of their federal authority over "waters of the United States."
The goal of the proposed rule is to clarify and target the Clean Water Act to the benefit of agriculture. Yet ag groups remain skeptical, as this proposed rule would give the federal government regulatory authority over millions of acres of wetlands and about 2 million miles of streams.
Watch this report from AgDay:
The first step it to actually define what are "waters of the United States"?
The proposed rule from the agencies defines them as:
All waters which are currently used, were used in the past, or may be susceptible to use in interstate or foreign commerce, including all waters which are subject to the ebb and flow of the tide
All interstate waters, including interstate wetlands
The territorial seas
All impoundments of a traditional navigable water, interstate water, the territorial seas or a tributary
All tributaries of a traditional navigable water, interstate water, the territorial seas or impoundment
All waters, including wetlands, adjacent to a traditional navigable water, interstate water, the territorial seas, impoundment or tributary
On a case-specific basis, other waters, including wetlands, provided that those waters alone, or in combination with other similarly situated waters, including wetlands, located in the same region, have a significant nexus to a traditional navigable water, interstate water or the territorial seas

"There needs to be clarification on the Clean Water Act," says Lois Alt, a West Virginia chicken farmer, who won a case against EPA concerning the regulations of the Clean Water Act. "There are no farmers that can't handle regulations, and I don't know anybody who cares any more for the land than a farmer."
Ag Groups Speak Out
This proposed rule has huge implications for cattlemen, says Ashley McDonald, National Cattlemen's Beef Association environmental counsel. "This has the impact of causing numerous cattle producers to have to have permits, which are costly and time-consuming," she says.
The rule, she says, could define any land in a floodplain being "waters of the United States." "Anyone who has common sense knows that if you define anything in a floodplain as being a water of the United States, you will shut down a lot of productive activity on that land," she says. "It will be a big headache for cattle producers across the country."

Other groups, such as the American Farm Bureau, National Corn Growers Association and the Agricultural Retailers Association have expressed concerns over the proposed rule but are still reviewing the 370-page draft.
The EPA Administrator's View
In an op-ed letter posted to AgWeb on March 25, EPA Administrator Gina McCarthy said the proposed rule will support a strong farm economy.
"Over the last decade, the Clean Water Act has been bogged down by confusion," she said. "Some in the agricultural community might think that this rule will broaden the reach of EPA regulations—but that's simply not the case."
She said the proposed rule will not add to or expand the scope of waters historically protected under the Clean Water Act. Also, it will not regulate groundwater or tile drainage systems; and it will not increase regulation of ditches (whether they are irrigation or drainage).
"By working arm in arm with the U.S. Department of Agriculture, we made sure we're addressing farmers' concerns up front," she said. "The rule keeps intact existing Clean Water Act exemptions for agricultural activities that farmers count on. But it doesn't stop there—it does more for farmers by actually expanding those exemptions.
"We worked with USDA's Natural Resource Conservation Service and USACE to exempt 53 additional conservation practices. These practices are familiar to many farmers, who know their benefits to business, the land, and water resources. Conservation is an all-around win," she said.
She said the bottom line is that before the rule—producers were uncertain whether they needed certain types of permits. But, after the rule—if producers choose to partake in any of the 53 conservation practices detailed in the proposal—they won't need those permits or pre-approval.
The proposal is subject to a 90-day comment period slated to begin in a few weeks. At this time, there's is no timetable for when the rules will be released.
For More Information
Read the EPA's Fact Sheet: How the Proposed Waters of the U.S. Rule Benefits Agriculture
Related story: E.P.A.'s Proposed Rules on Water Worry Farmers (New York Times)
---