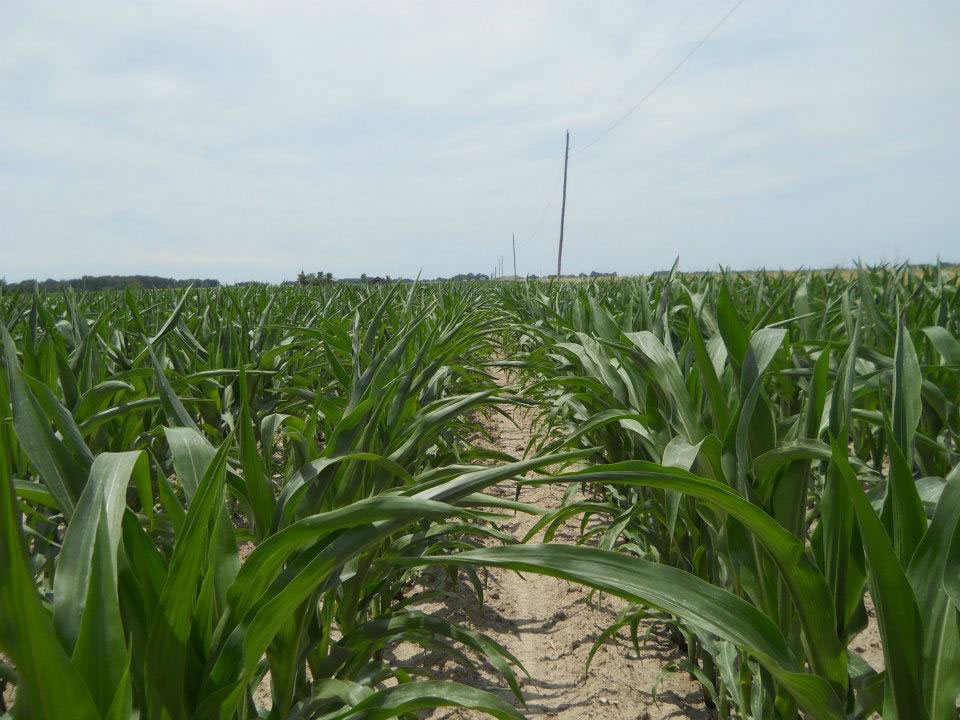 New report from The Climate Corporation says the probability varies widely by geography.
Historically warm weather this March and April led to many farmers planting a week, two weeks, or even a month earlier than normal. This strategy has several potential benefits. Farmers could plant a longer season hybrid, for instance, or they could sell their new crop corn for September or October delivery.
Above all, farmers cite a temperature-based benefit to planting early – they want to substantially lower the risk of excessive, damaging heat during pollination. It's a numbers game, and The Climate Corporation just calculated the odds.
"Corn doesn't care about heat unless it's about 95 degrees or hotter," says Jeff Hamlin, director of agronomic research. "We looked at the historical probability of seeing damaging heat. If you had a choice, you wouldn't want your crop pollinating then."
The Climate Corporation looked at 32 years of historical temperature data during four key summer weeks: June 17-23, June 24-30, July 1-7, July 8-14. Next, they calculated the probability of a "Hot Week," defined as a week with two or more days with highs of 95 degrees or above. Finally, they compared the probability of having a Hot Week during these weeks with that of the hottest week of the year – July 15-21.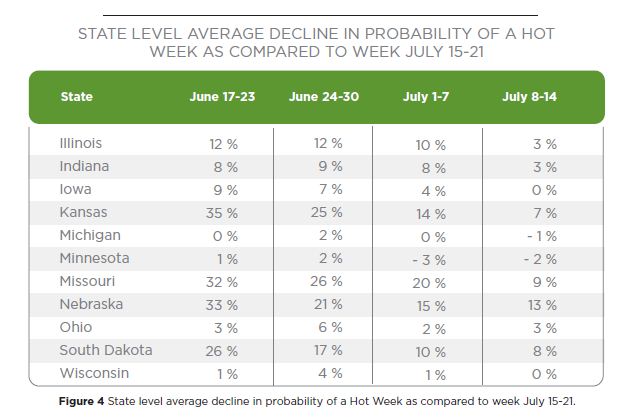 Conventional wisdom suggests that planting early gives you a better chance of dodging excessive heat during pollination. The Climate Corporation's findings suggest otherwise, depending on where you farm. For example, an Iowa farmer could plant a full month early and expect the chance of a Hot Week during pollination to drop by just 9 percent. In Wisconsin, that advantage shrinks to 1 percent.
"Our analysis showed that the temperature-based benefit to planting early has historically been negligible for most locations in Minnesota, Wisconsin, Michigan, Northern Iowa and Ohio," Hamlin says.
But in other areas of the Corn Belt, the odds are much better to beat the heat by planting early. Pushing up the pollination date by even a single week could improve the likelihood of avoiding yield-damaging heat by up to 40 percent in many locations in Kansas, Missouri, Nebraska and South Dakota.
Hamlin says The Climate Corporation is currently working on two additional reports, one on the impact that nighttime heat has on yields and another on double-cropping.
"We're seeing farmers thinking about double-cropping in a lot of areas they normally wouldn't," he says. "We've heard of people as far north as Wisconsin considering it this year. "
The full corn pollination report is available
here
. The group has also compiled an
appendix
that charts the historical frequency of Hot Weeks across hundreds of Midwest locations.
---