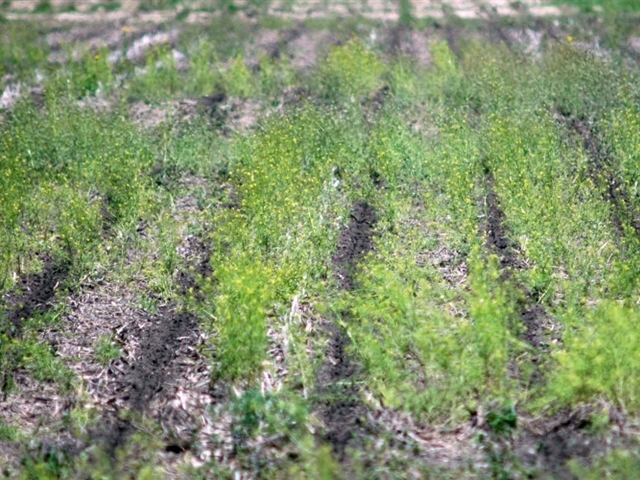 It's the tail end of winter, the snow is falling, and the cold winds are blowing. Even though planting season is still weeks if not months away, those winds have already brought unwanted passengers to your fields.
"For example, in the High Plains, you can drive by miles and miles of fences already bound up with windblown kochia," says Abe Smith, market development specialist at Dow AgroSciences. "And in many areas, there are really good conditions for weeds to germinate early. That means you should be scouting early this year."
Early season weed identification is critical, Smith says. That's because the sooner a farmer identifies what weed mix is in his or her fields, the more control options will still be on the table. Don't underestimate the impact wind, wildlife and even migratory birds can have on even previously weed-free fields.
"Not all the problems you encounter are due to your own management," he says. "It reinforces the need for scouting and understanding how outside influences can affect weed populations."
Luke Peters, product manager at Dow AgroSciences, says he has his eye on three weeds to watch for in particular for 2015 – waterhemp, marestail and palmer amaranth. He says these weeds often require a pre- and post-emergence herbicide to maximize control.
"You want to clean up weeds early before they come up, and then consider a post application as needed," he says. "If you remove foundation herbicides from your approach, you're potentially setting yourself up for future resistance problems."
Another factor that could affect 2015 weed pressures is the lack of herbicide applications last fall, adds Jeff Carpenter, corn and soybean portfolio product manager with DuPont Crop Protection. Some of that was due to economic pressure from lower grain prices, and some was simply due to winter weather arriving too soon in some areas of the Corn Belt.
That has Carpenter eyeing winter annuals such as henbit, dandelion and other weeds as potential problems as planting season approaches.
"Be careful, because you might have to get started earlier and look at including residual materials in a burndown application," he says.
Carpenter has also looked into which weed species he thinks has the best potential to be "resurgent" in 2015. His list includes palmer pigweed in the South and waterhemp species in the Midwest. He also expects there to be intense pockets of nutsedge, morningglory, common ragweed, giant ragweed, kochia and lambsquarters in some smaller geographies.
These weed species aren't new problems to many problems, but Carpenter concurs – scout early and often this year and be proactive about any weed problems you may encounter.
"You should scout and monitor weeds to figure out which mode-of-action combo will stop those weeds," he says.